Demand-Orientated Customization Solution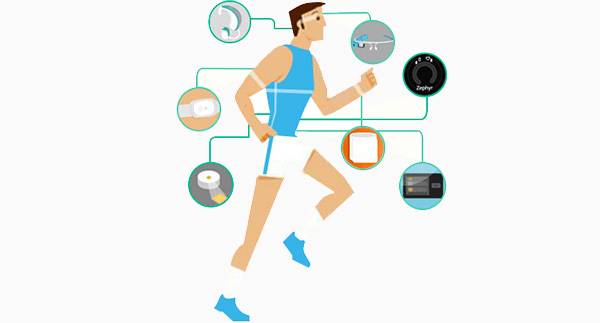 ALL For Power Your Life
Wearable Devices: Smartwatch, smart bracelet, Bluetooth headphones, Bluetooth earbud, smart ring, smart glasses, AR/VR, smart belt, heating apparels, intelligent jewelry, smart shoes, heating insoles, GPS tracker, etc.
ALL IN ONE designs and manufacturers custom-made batteries and cells for the specific needs, from chemistry to structural design to protection systems.
For customers designing their own electric powertrains or completing devices for a specific application, ALL IN ONE provides one-stop services and fully-integrated battery solution to reply to specific needs.

Shaped Batteries Features
High safety performance: special enveloping technology to avoid potential internal short circuit.
Any special shape, according to your product application requirements.
Micro dimension: 0.4~8 mm in thickness, 6~50 mm in width.
Support high rate discharge, fast charging capacity.
Wide operating temperature: -50 ℃~50 ℃ or -20 ℃~80 ℃.
Custom, semi-custom, and off-the-shelf batteries.
Test samples will be completed in 7 days.
Batteries of different shapes can be connected in series or in parallel.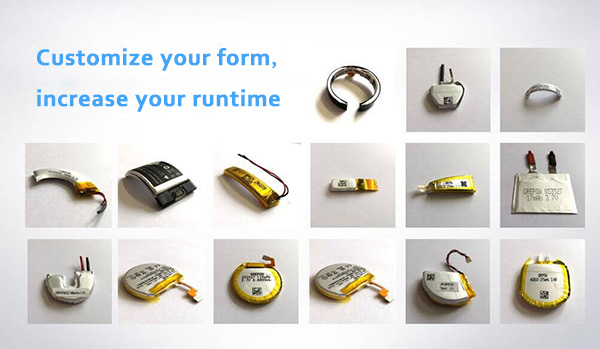 What Features Can Be Customized

Shape Design

The most batteries of portable electronic devices are complicated. They require detailed shapes, sizes, durability, discharge rate, and other features. Of course, we, as consumers, want light, handy, and durable electronic devices. The good news is that customized batteries are better able to fulfill these requirements

Customize Compact and Design

On all projects, we work closely with customers from the first design concept, through prototyping and testing to large-scale manufacturing from our facilities in China. Our service teams are located in the US, Asia and Europe, able to communicate with customers in real-time and provide support as soon as possible.
Battery Structure design included: Compact, Size, Weight, Styled Case, Strength, Shock Resistance, Heat Dissipation, etc.

Temperature Condition

The battery for extreme temperature environment is a completely different market than the normal battery operating environment. We believed Whether in high temperature or low temperature environments, our design teams have experience in just about any market using power.

Specifications

We believe that only the number we display are not represent the limitation of us. In order to the different situation, ALL IN ONE's battery customization solution is the breakthrough of various application. In addition to the special shape and temperature environment, we can also customize.
LIPO Applications
Latest Products