2020-08-10 05:32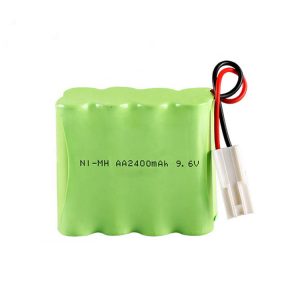 9.6V 2400mAh Nimh Rechargeable Ni-mh Battery Pack
ITEM
Specifications
Capacity
2400mAh
Normal Voltage
9.6V
Battery Size
57*51*28.5mm
OEM
available
Advantage
low self-discharge/no memory effect/eco-friendly
Charge operating temperature
0°C~45°C
Discharge operating temperature
-10°C~60°C
Operating temperature
(surface temperature)
Charge : 0 to 50
(recommended recharge release < 45°C)
Discharge: -20 to 75
(recommended re-discharge release < 60°C)
Storage temperature
(Recovery 90% after storage)
1.5 year -30~25°C(1*)
3 months -30~45°C(1*)
1 month -30~60°C(1*)
Our Advantages:
1 .High capacity, low inner resistance, long cycle life, low self-discharge
2. Strong current charge and discharge capability has reached IEC standard
3. Can endure over-charging
4. Established quality control systems under ISO9002
5. Full production process is controlled strictly
6. All products are inspected strictly with the match of capacity
7. Inspects inner resistance, discharge platform and self-discharge, and also deals
with under the special temperature
8. Cycle time: 500 times
9. Aplication: Using for Power tools,Two-way radio,medical device,Portable DVD,Digital
camera,emergency lighting, etc
10. Warranty: 1 years.
Note:

We are a battery manufacturer. All products do not support retail, we only do B2B business.please contact us for product prices!