2020-12-28 09:21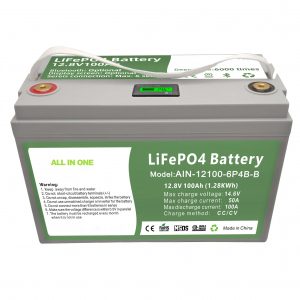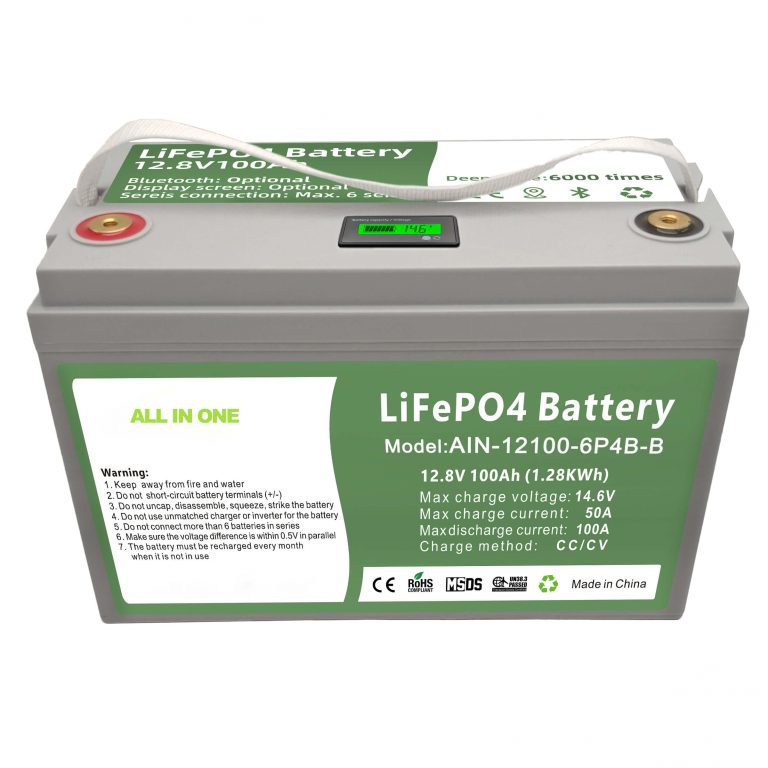 Specification
Item

Parameter

Remark

Product model

AIN-12100-6P4B-B

Battery type

LiFePO4

Nominal voltage

12.8V

Nominal capacity

100Ah

Max. charge voltage

14.3V±0.3V

Charge cut-off voltage: 14.6V

Min. discharge voltage

10.0V±0.5V

Max. charge current

100A

Max. discharge current

100A

Charge mode

CC/CV

Display screen

Optinal

Bluetooth

Optinal

Power switch

Optinal

Parallel

Support

Delta voltage < 0.5V

Series

Support

Max. 6 sets in series

Protection

Over charge protection, over discharge protection, over current protection etc.

Terminal

M8 nut

Shell

Plastic

Waterproof

Work temperature

Charge: 0~50℃
Discharge: -10~60℃

Dimensions

325mm*170mm*215mm (Max.)

L*W*H

Weight

14kg (About)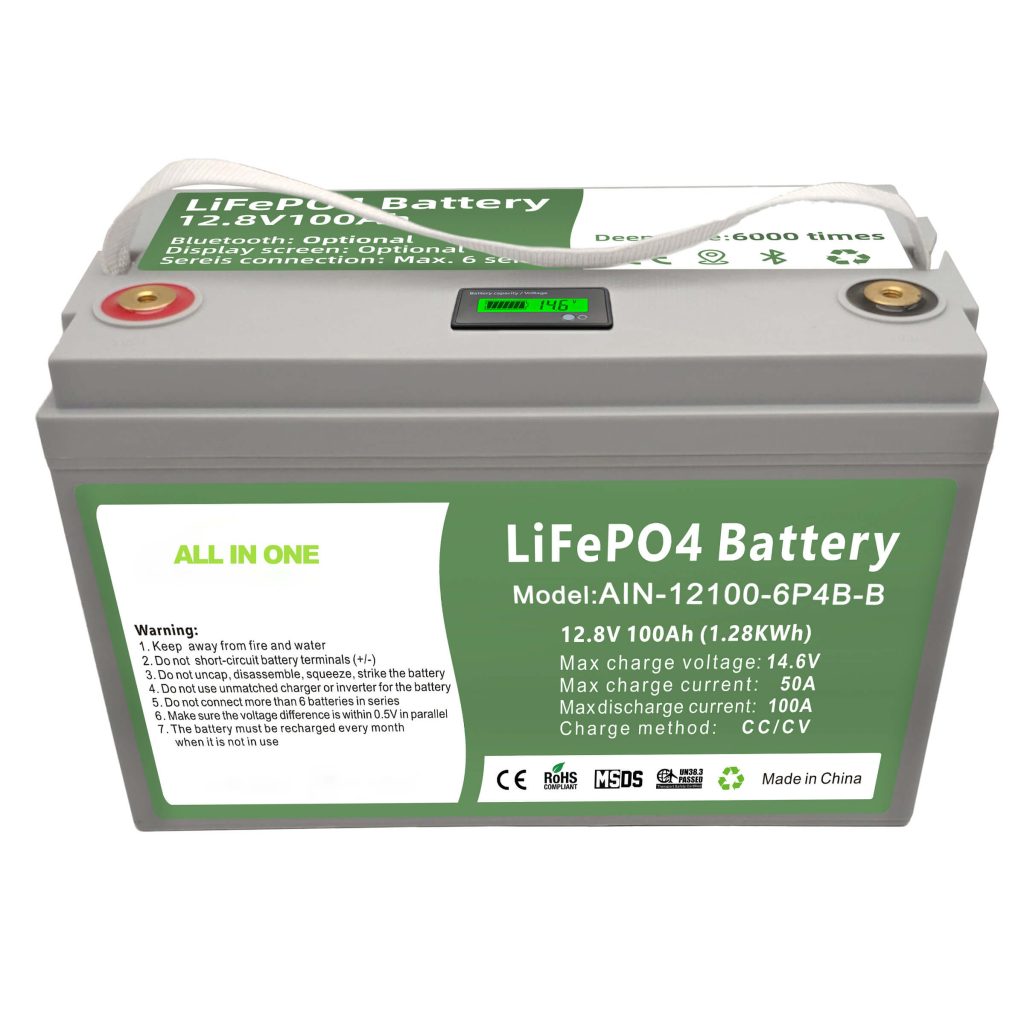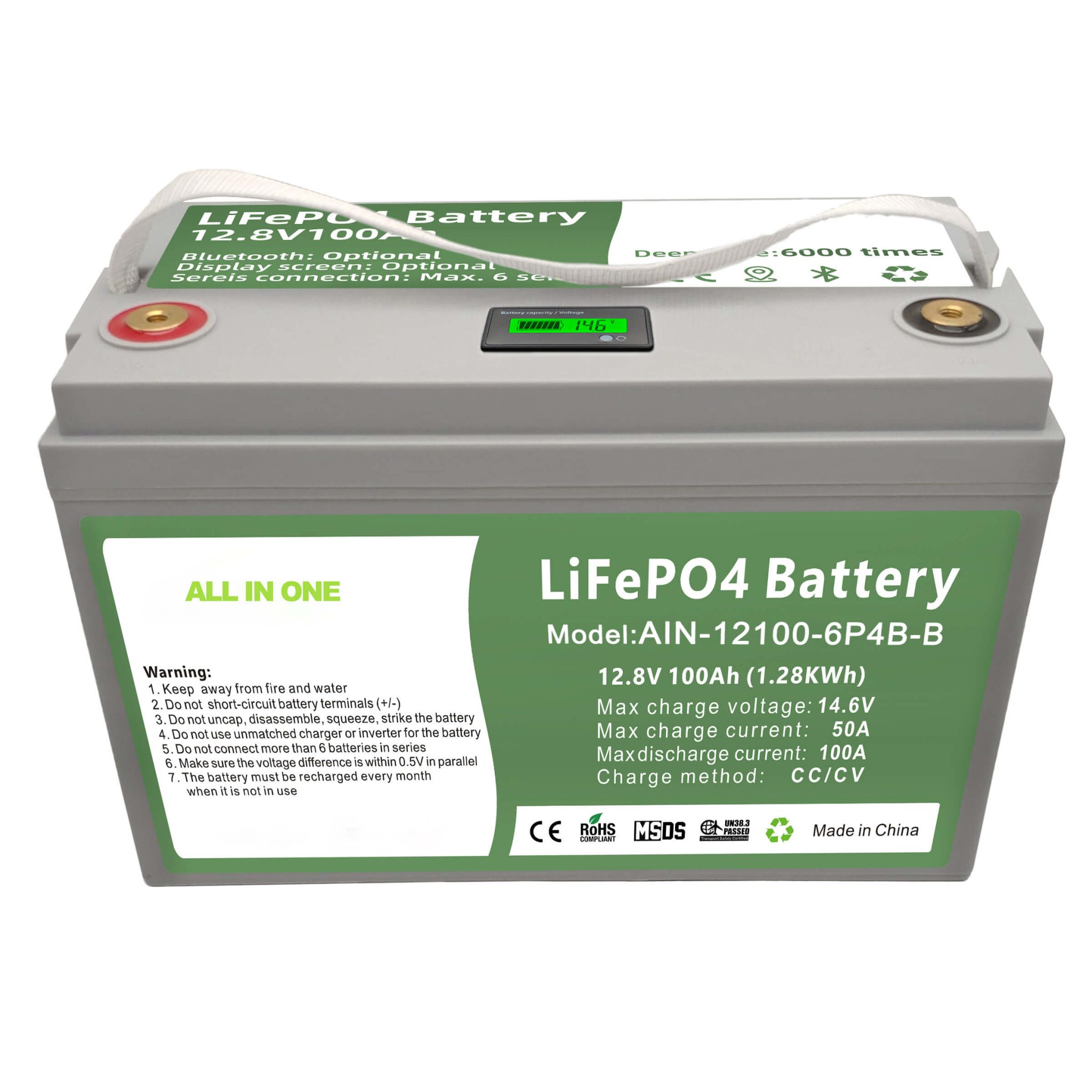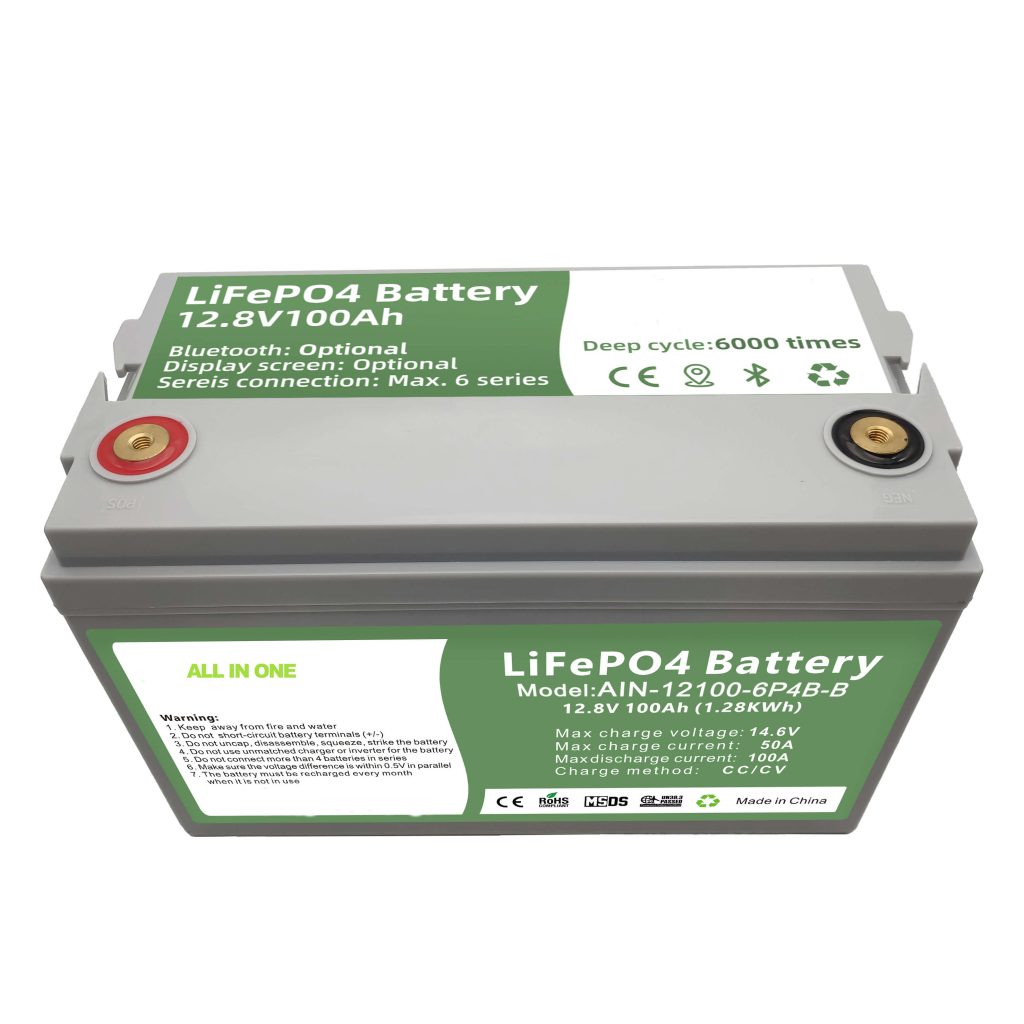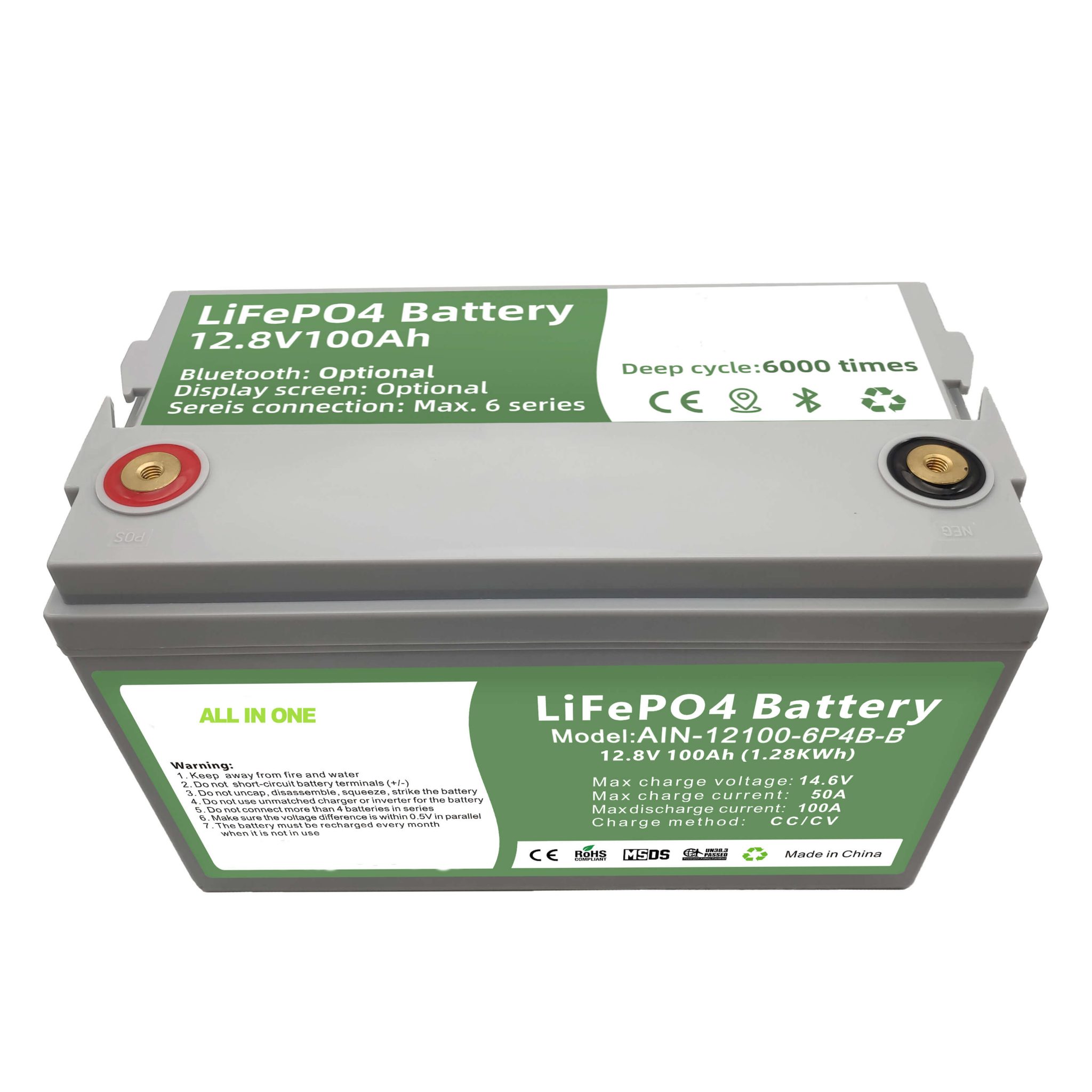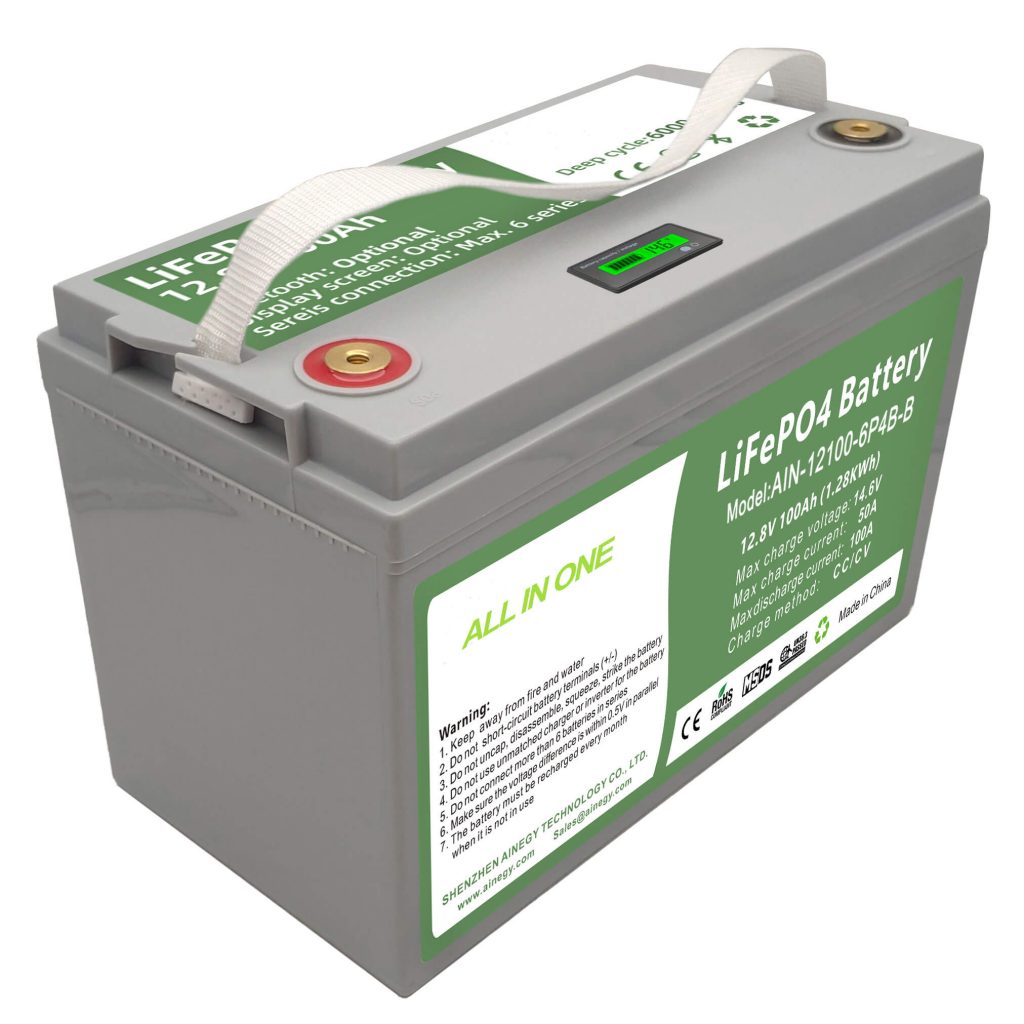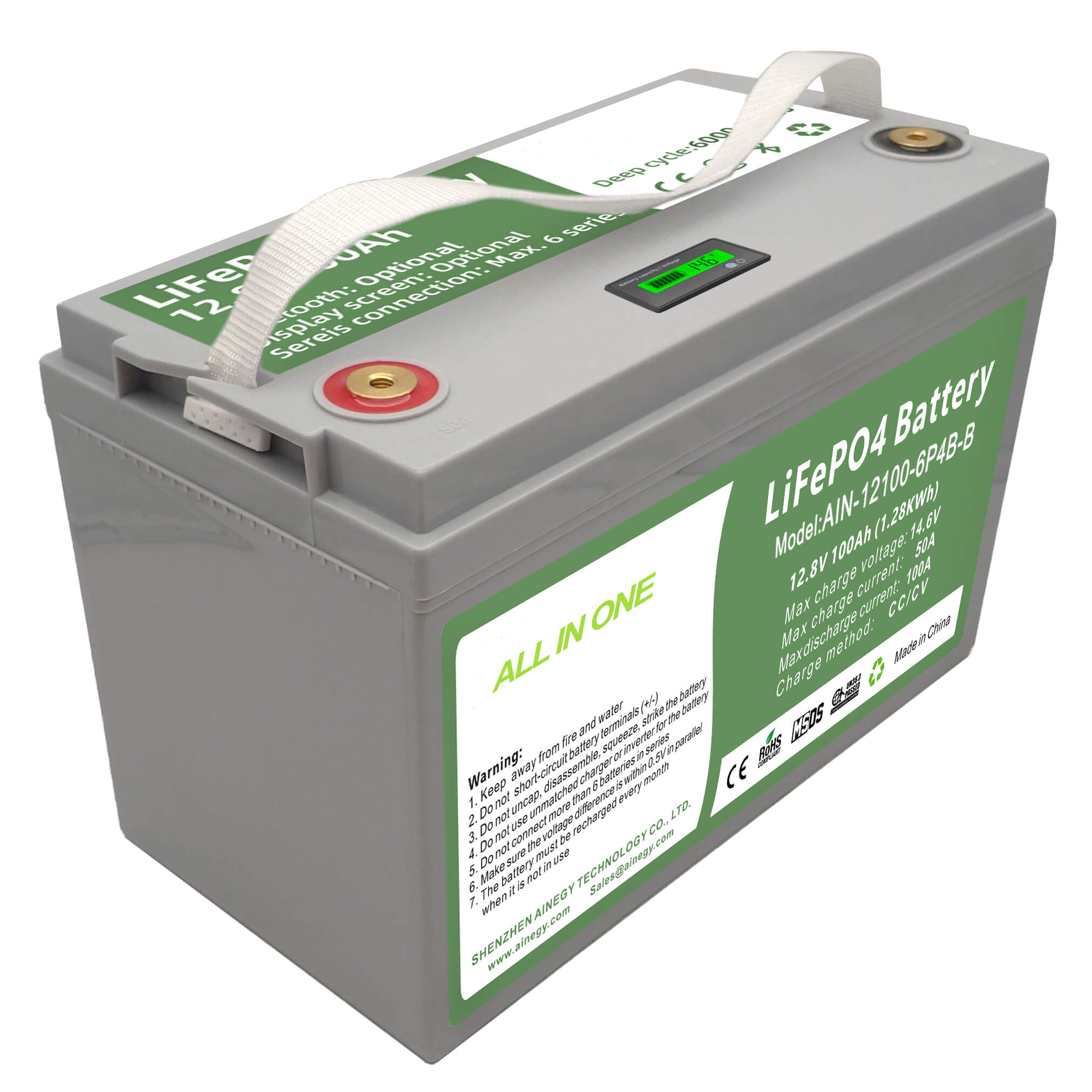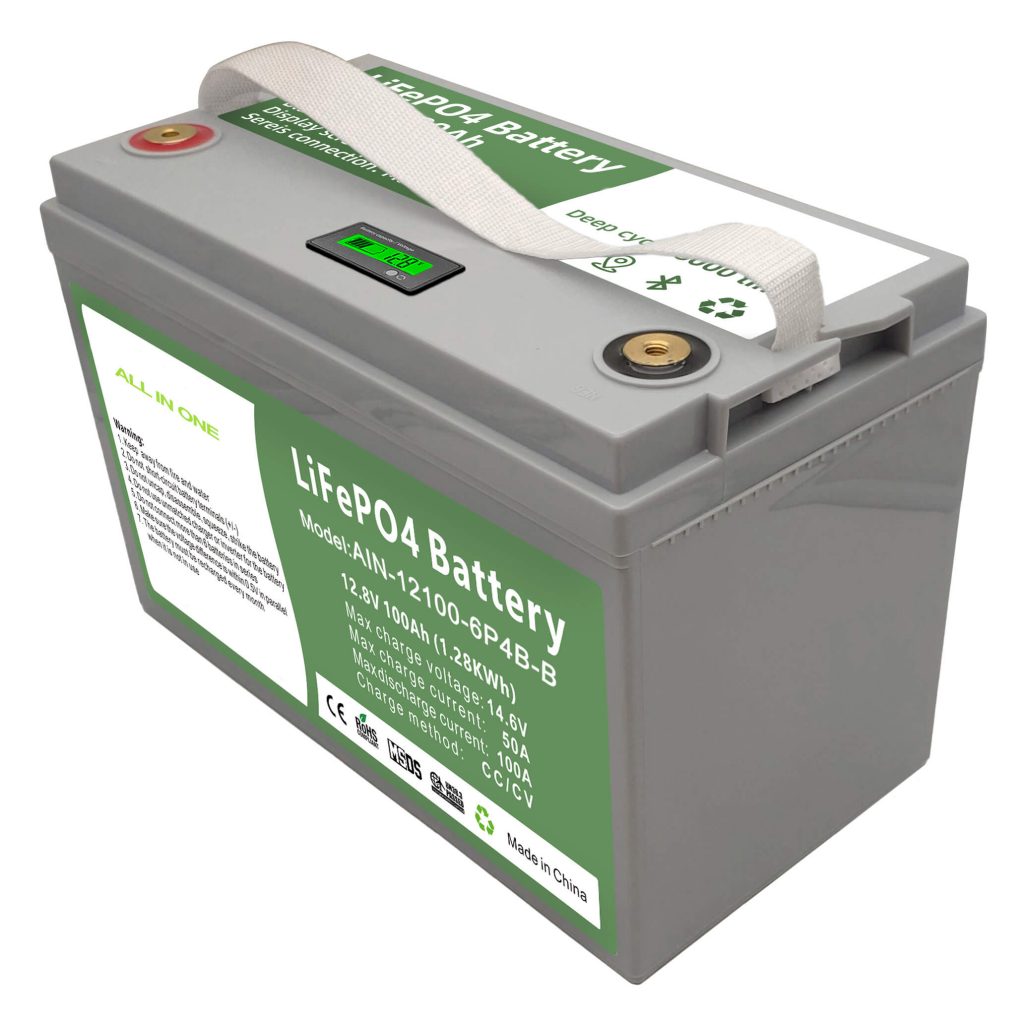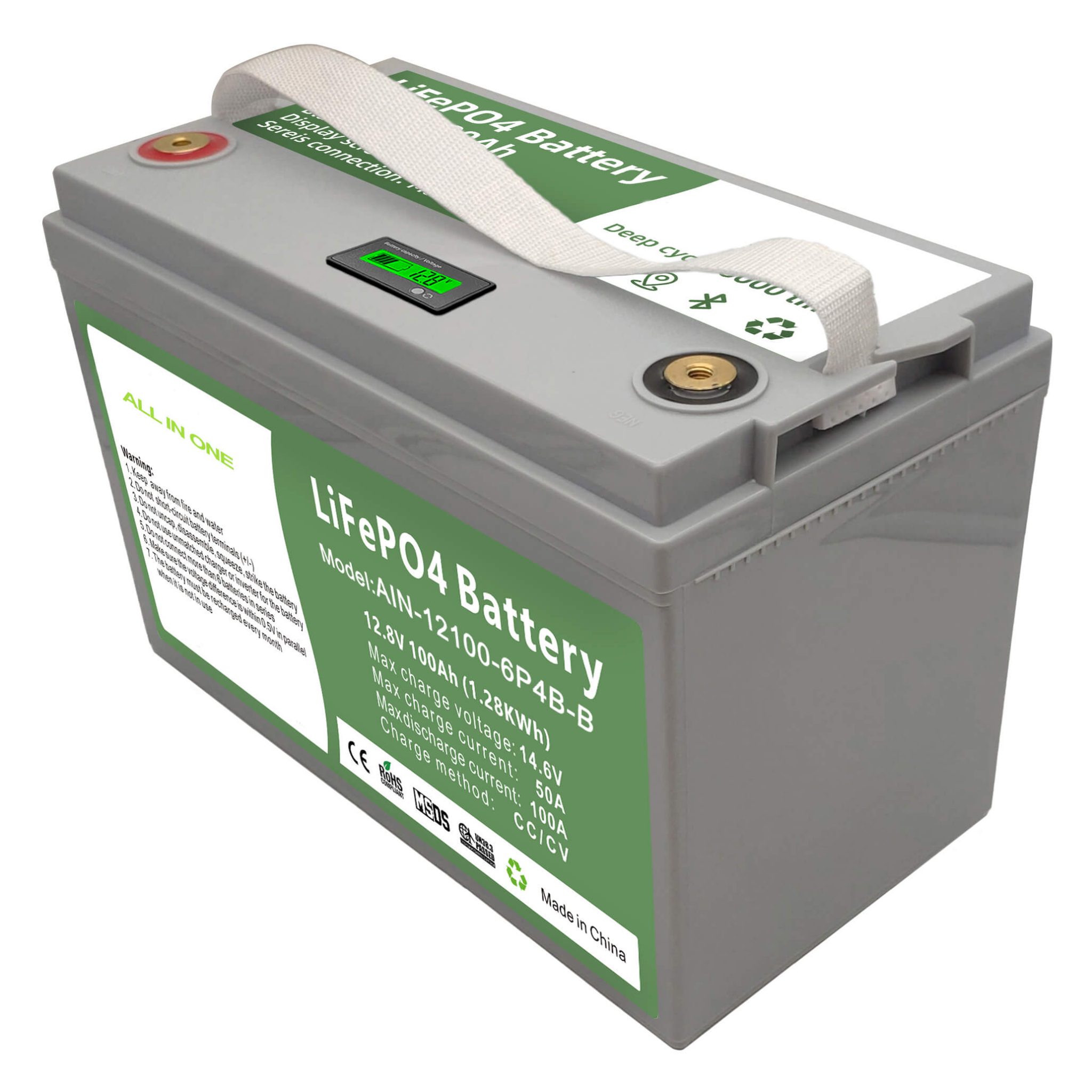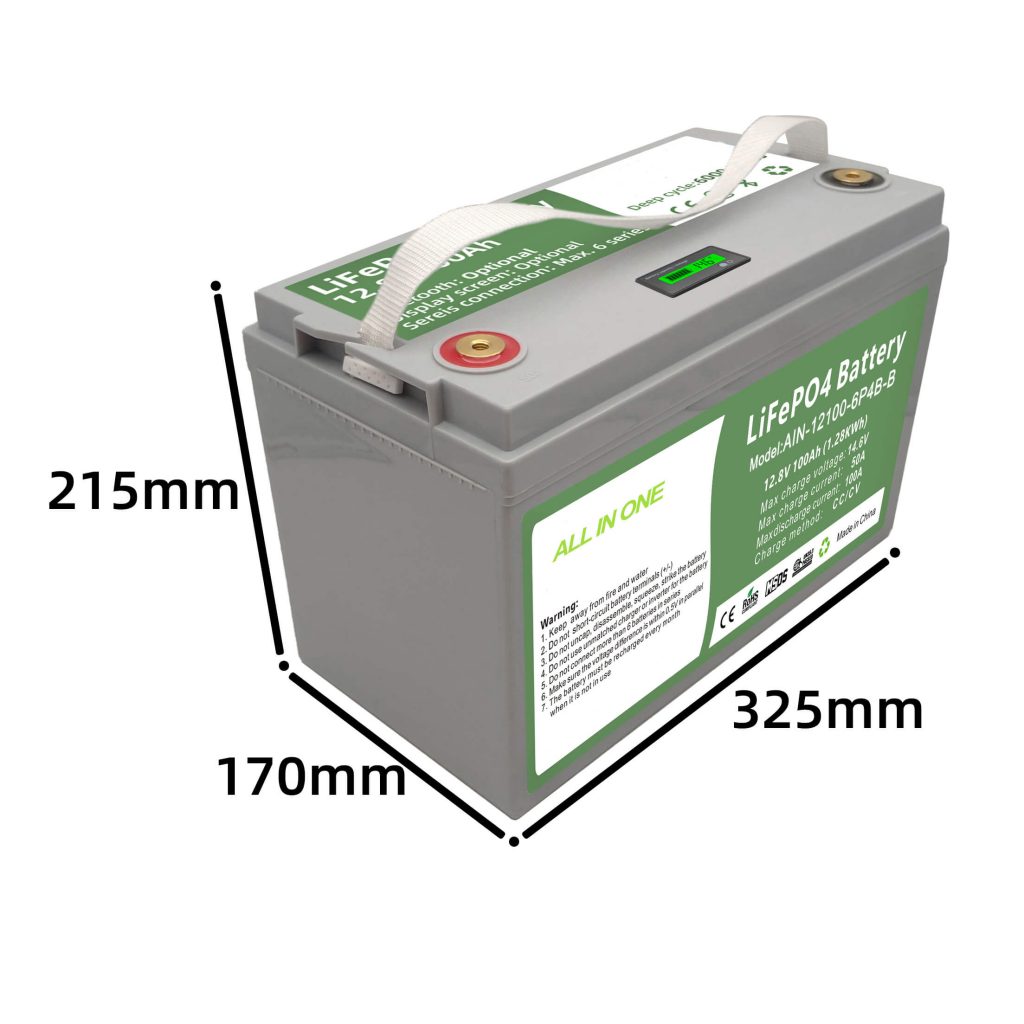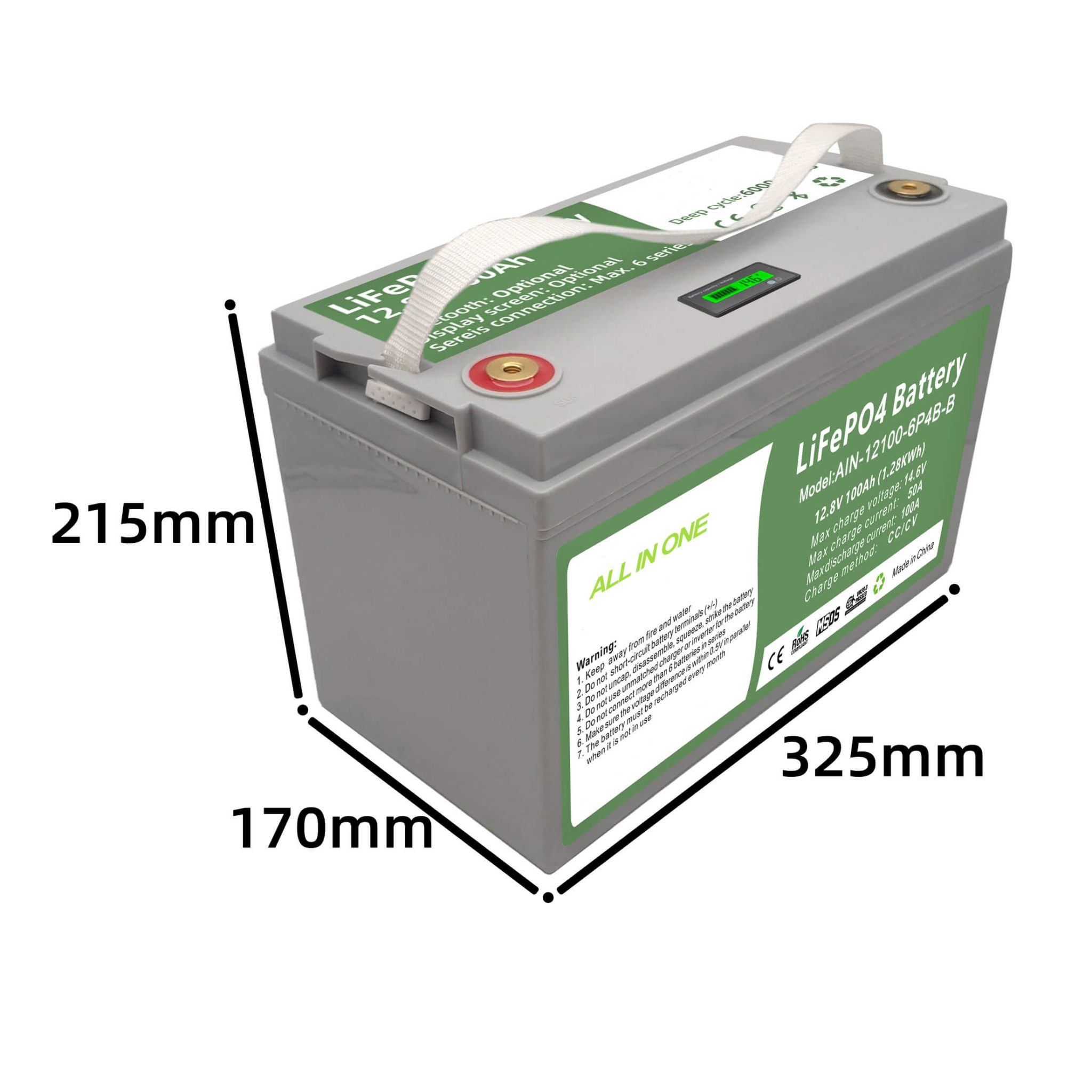 12V all series
12V30Ah/50Ah/60Ah/70Ah/100Ah/150Ah/200Ah/250Ah/300Ah with display screen
Color: Black/Blue/Grey
Cycle life: up to 6000 times.
LiFePO4 battery cell with high capacity, light weight, high consistency, high security.
Without heavy metals and environment friendly.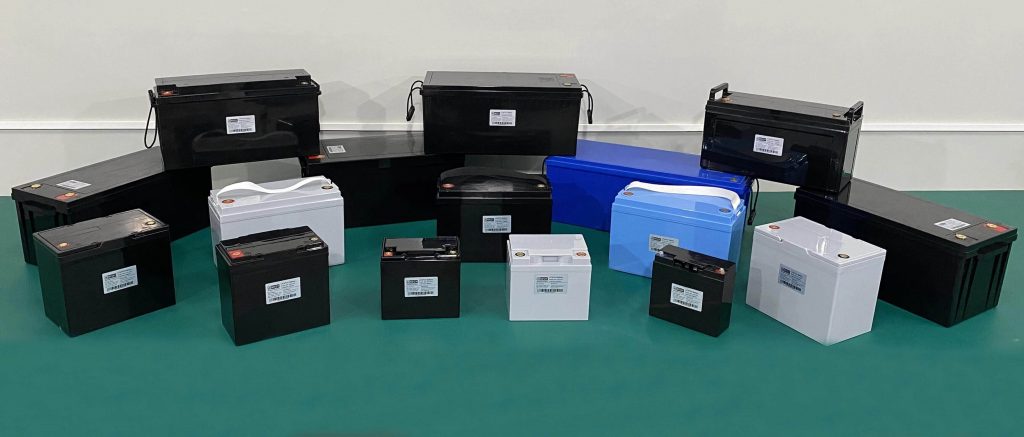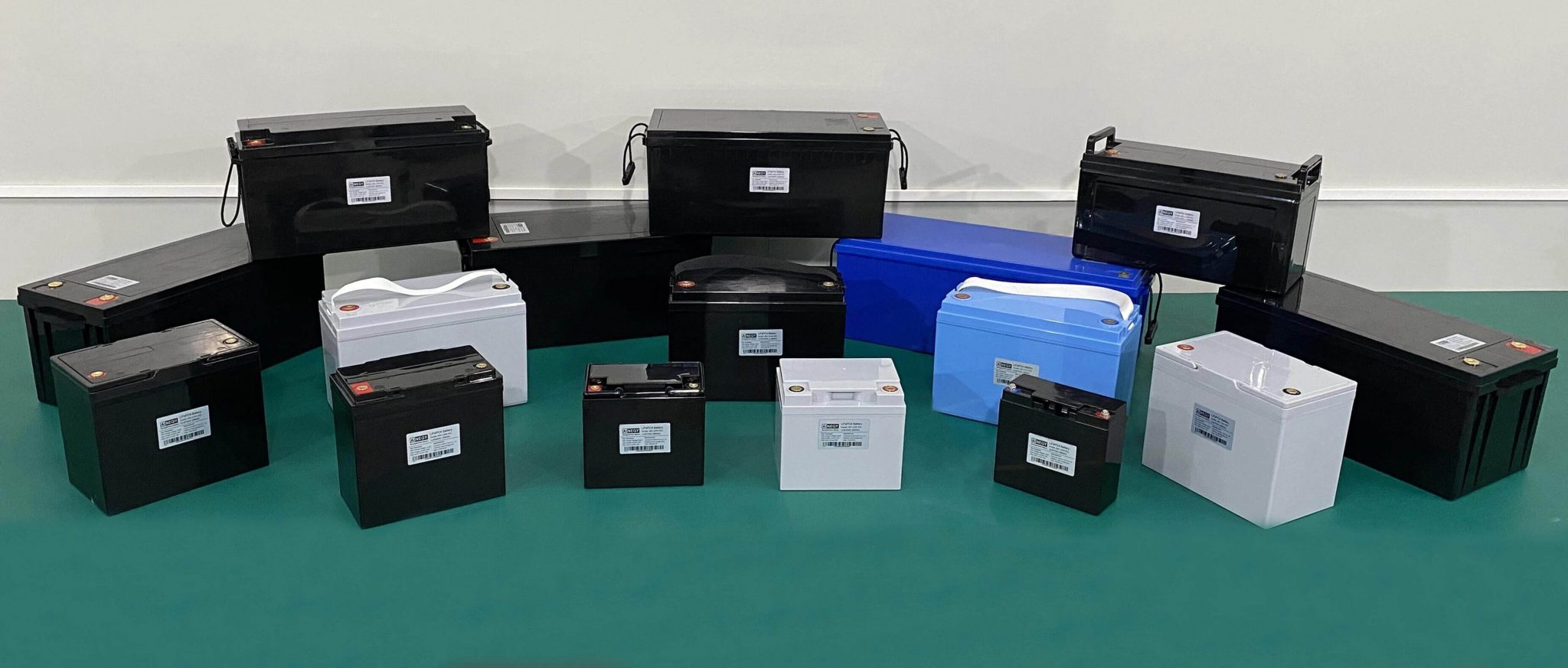 Series and parallel connection
Support max. 6 series
Longer Cycle Life
Offers up to 20 times longer cycle life and five times longer float/calendar life than lead acid battery, helping to minimize
replacement cost and reduce total cost of ownership
Superior Safety
Lithium Iron Phosphate chemistry eleminates the risk of explosion or combustion due to high impact overcharging or short circuit situation
Free of Maintenance
It's no request to re-fill electrolyte during service life with the introduction of advanced sealing valve regulated technologies and using AGM separator.
Related LFP batteries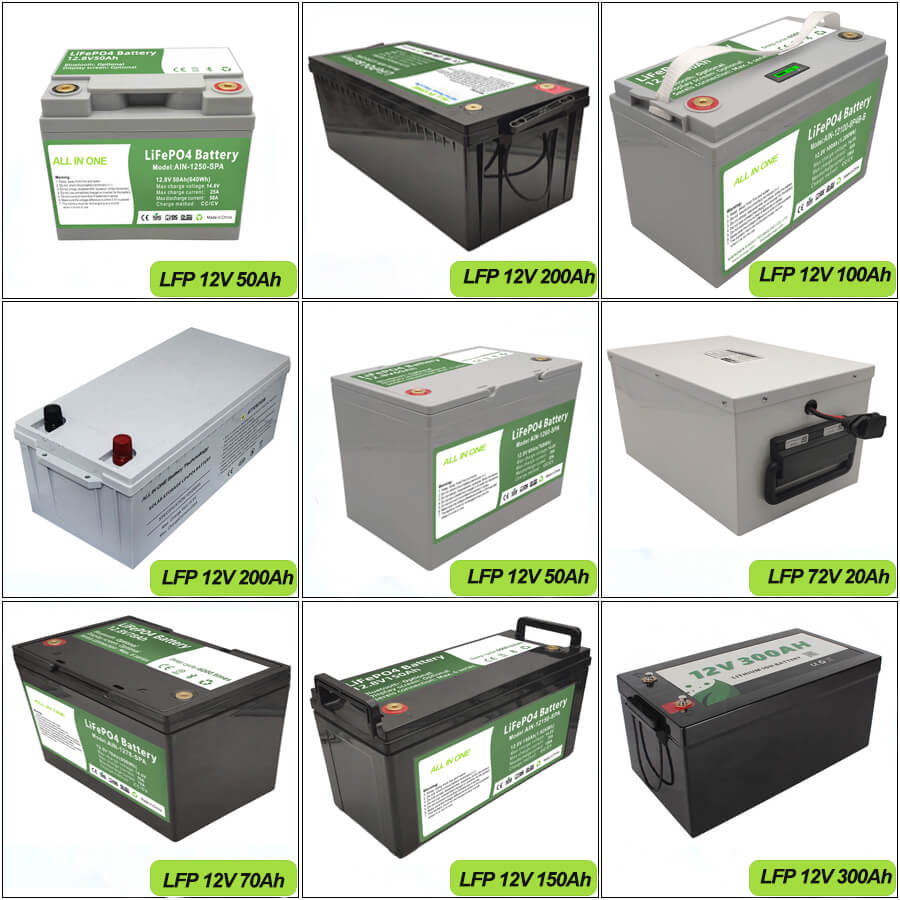 Energy storage: UPS, Industrial power, PV power, Communication base station, PV energy storage, Solar energy storage system, Solar-wind power system, 48V energy storage system, etc.
Electric vehicle: Electric car, Takeout, Express, Electric scooter, Electric motorcycle, Electric tricycle, Electric van, etc.
Industrial equipment:
Industrial equipment, Communication, Hydraulic equipment, Fire equipment, Power grid equipment.
AGV Robot:
AGV, RGV, Intelligent Robots, Robots for logistics, Industrial Robots, Robots for Automatic Line, Robots for building, Robots for Car.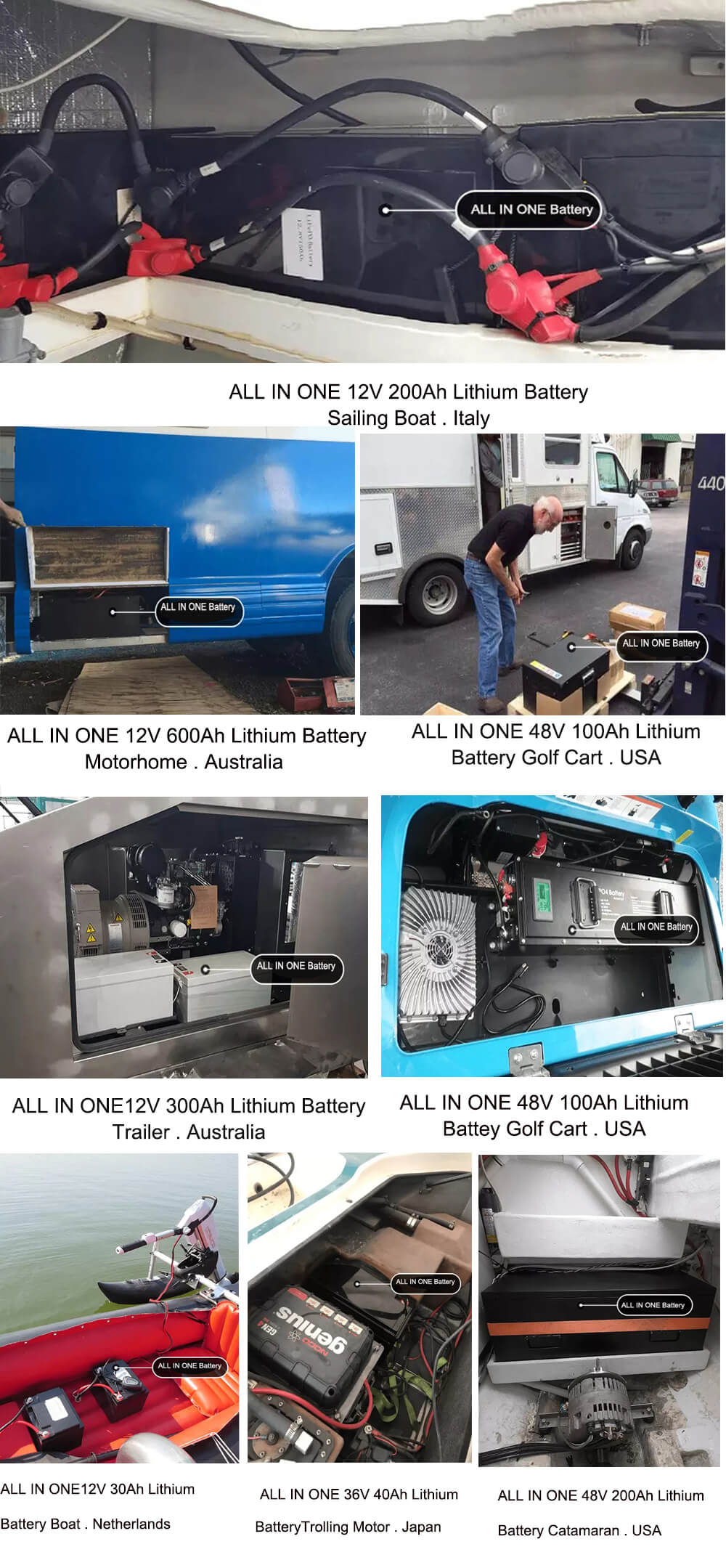 ALL IN ONE Advantages:
First-class R&D team: Our R&D colleagues are from the TOP3 Lithium battery companies in China. we have rich experience in battery design, electronics, testing and real application. We keep close communication with university and scientific institution. We promise to offer you a professional and high cost-effective solution.
Strict Quality Control: We set strict QC standards include appearance, package, internal structure, electric performance etc. We promise to offer our customers high quality battery.
Customer first culture: 80% of our customers are 5 years above long term partners. We treat our customers as our friends, family members. Every batteries we produced, sold are priceless trust from customers, we cherish it and match word to deed.
Packing And Shipping: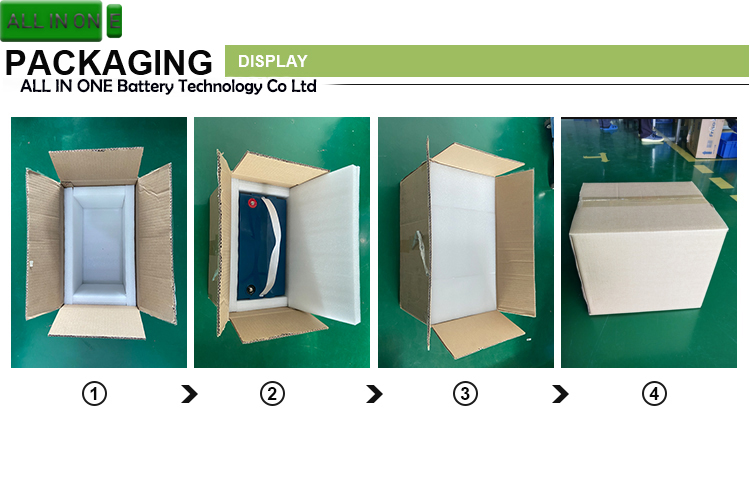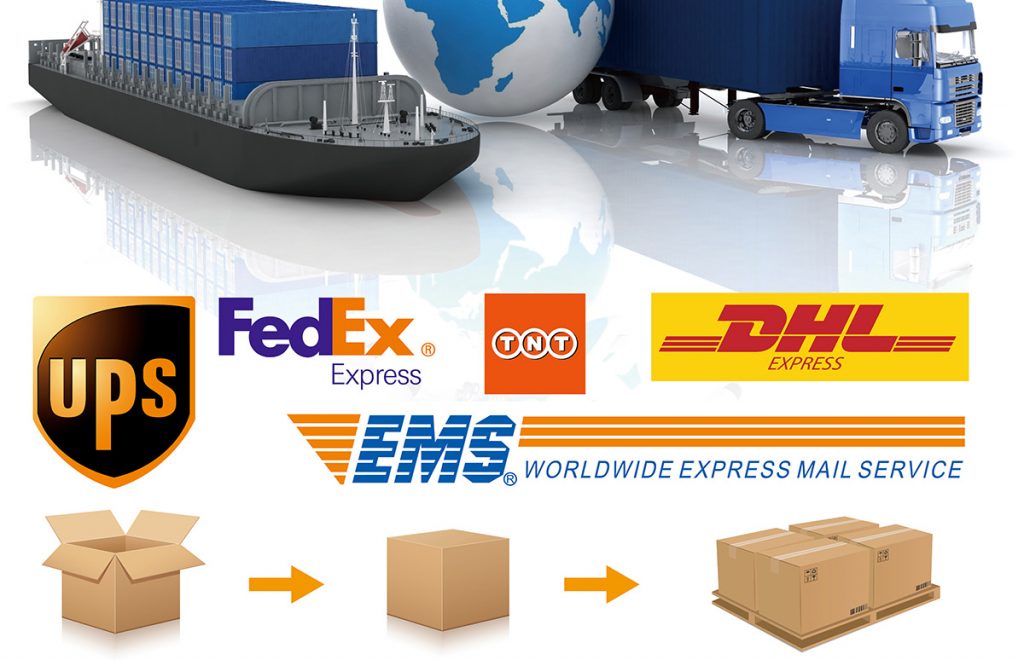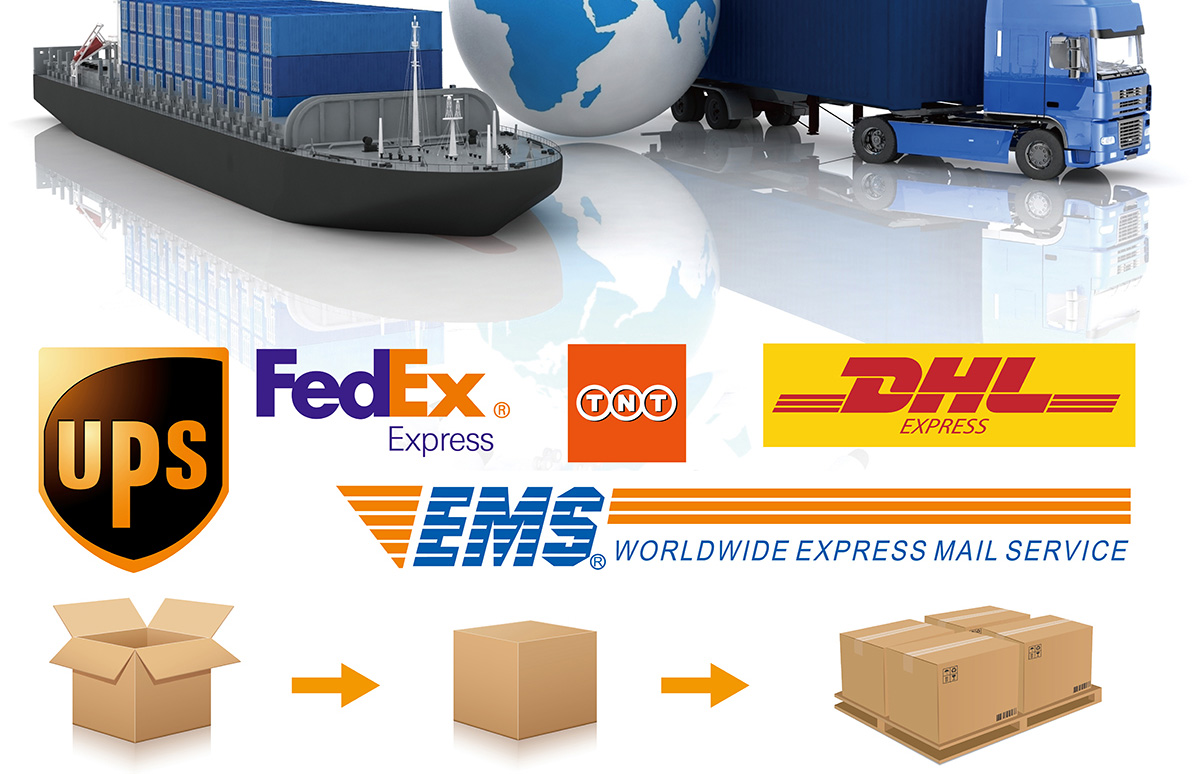 FAQ
Q1. Does ALL IN ONE support door to door shipping? drop ship ?
A1.Yes. If battery unit weight is below 30kg, we delivery it via Express. If battery unit weight is above 30kg, we delivery it via sea . If you want to us to help you to make custom clearance, we would like to do that. We support drop ship.
Q2. Can we do series and parallel connection by ourselves (12 volt battery)?
A2.: Yes. But, we should pay attention to below tips:
a. Connect the same spec. battery pack. Please don't mix them.
b.The voltage difference of the connection batteries should be 50mV below.
c. Support 4 series OR 4 parallel connection. Please don't do series and parallel connection at the same time.
d. If we don't obey the tips, It may cause battery damaged or shorten the battery lifespan.
Q3.How can I resell lithium batteries well in my market ?
A3. Do market research, set your focus application field,learn more knowledge about lithium battery. build your own brand. We can work together with you to explode the market.
Q4.Why ALL IN ONE guys ask me so many questions? I just want to know the price !!
A4.Sorry for annoying you. But the discharge current, voltage etc. Information is very important for us to produce the correct battery for you. If we produce the battery which can not achieve the real application discharge current, size etc. That will put both of us in a very embarrassing and lose-lose condition. We also have price list, but it is only for your reference. We should confirm the discharge current etc. Information before we produce your orders.
Q5. Does ALL IN ONE battery include BMS? Can we use it for vehicle?
A5.Yes, our battery pack include BMS, you can use it for low speed vehicles.And make sure the discharge current can meet the application request (please refer to Q4) . If you want to use standard vehicle, please inform us, we need to adopt more complex design BMS and different technology solution.
Q6.What is your warranty?
A6.Our standard warranty is 2 years. Our battery lifespan can be used for at least 8 years for normal 1 cycle per day. We have a complete warranty policy documents, please feel free to contact us to get it.
Note:

We are a battery manufacturer. All products do not support retail, we only do B2B business.please contact us for product prices!