2020-08-11 03:49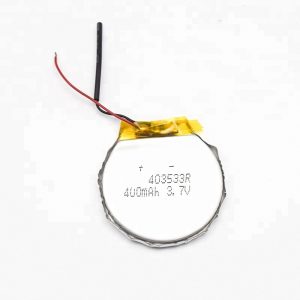 AIN403533R 3.7V 400mAh rechargeable round lipo battery smart watch battery
Model
AIN403533R
Nominal voltage
3.7V
Nominal capacity
400mAh
Size
Thickness × Width × Length (mm)
(4.0±0.5)×(35.0±0.5)×(33±0.5)
Main characteristics
High energy density,good capacity,better safety and reliable(with PCM),long circle life,no memory,never explosion,stable performance,environmental,capacity and size could be customized
Weight
about 1.5g
Max charge current
1C
Charging method
charge with constant current 1C to 4.2V,then charge with constant voltage 4.2V till charge current less than 0.01C
Max discharge current
1C
Discharge cut-off voltage
3.0 V, the over-discharge detection voltage of PCM
Operating environment
Charging, 0°C ~ 45°C ; 65±20%RH
Discharging, -20°C~60°C ; 65±20%RH
Storage environment
-20°C~45°C
65±20%RH
storage for a long time(>3 months) and the storage condition shall be:<35°C;65±20%RH;3.7~3.9V
CycleLife
(80% Prime Capacity) :
>500times
Charging Attention
Charging current and charging voltage should be less than specified in the Product Specification.
The charger shall be designed to comply with Specification.
It is dangerous that charging with higher current or voltage than Product Specification may cause damage to the cell electrical,mechanical safety performance.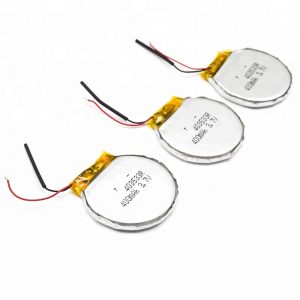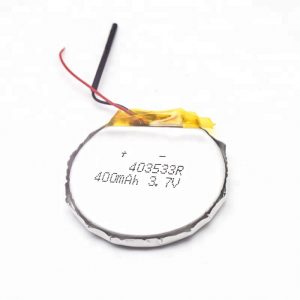 1.MOQ
(1) Battery sample orders for testing are welcome.
(2) MOQ is lower, please feel free contact our staff if you need.
(3) It is our honor to provide service for you, no matter how many you order.
2. OEM & ODM
OEM and ODM orders are welcome, just send us your design and we can make
your ideas into reality.
3. Quality
(1)100% tested in production. Test one by one before shipping. All the products will go through 4 checks.
(2) Mass production will only start after we get your confirmation of samples.
4. Manufacture
(1) We have our own factory.
(2) Provide you "customized products" along with the best price.
Application
1.Wireless Headphones,Wireless  Mouse, Keyboard, Gamepad,Outdoor LED Light.
2. Air purifier, Hand warmer, Smart water cup, Electric toothbrush, Fingerprint lock. Hearing aid.
3. Beauty/Washing Instrument ,Reading Pen, Recording Pen, Sex toys, Miner Lamp ,Airplane Model.Tire Pressure Meter .Driving Recorder .
Note:

We are a battery manufacturer. All products do not support retail, we only do B2B business.please contact us for product prices!