2020-08-11 00:55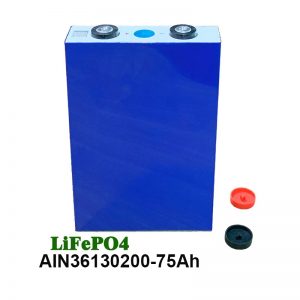 Model
AIN36130200-75Ah
Nominal Voltage
3.2V

Capacity

Max: 76.5Ah

Min : 75Ah

Charging Current
Standard Charging: 0.2C

Max. Charging: 1C

Max. Discharging Rate
Max. Continuous Discharging: 1C

Max. Peak Discharging: 3C

Cut-off Voltage
Charging: 3.65V

Discharging: 2.5V

Internal Resistance
≤ 1mΩ  (At 0.2C rate, 2.0V cut-off)
Dimensions
36*130*200mm
Working Temperature
Charging:   -10℃~45℃

Discharging: -20℃~60℃

Storage Temperature
≤1month:  -10–45℃

≤3month:    0–30℃

≤6month:   20±5℃

Life Cycle
>3500 times (80% of initial capacity at 0.2C rate, IEC Standard)
LiFePO4 ( lithium iron phosphate ) Battery produced for electric vehicles and energy storage system with capacity of 40Ah, 50Ah, 60Ah, 75Ah, 90Ah, 100Ah, 200Ah, 300Ah, 400Ah LiFePO4 Battery, have a excellent performance, high stability and long life time. The batteries can be widely used in Energy Storage System, EV, UPS and so on.
We also can offer a full power solution of LiFePO4 battery pack + BMS + charger
Our range covers from 12V – 24V – 48V – 72V – 80V – 96V – 144V – 300V
With a capacity of 40Ah – 60Ah – 100Ah – 200Ah – 300Ah – 400Ah – 600Ah – 800Ah – 1000Ah
The batteries are supplied with a LiFePO4 charger & advanced BMS (Battery Management System) that with function of
- Over-charge & discharge protection,
- Temperature control function,
- Short circuit protection,
- Balances the cells and ensures long cell life.
- LED power level display,
- Communication function.
Nominal Capacity

Nominal Voltage

Dimension (H*W*T)

Weight

Max Continuous Discharge Current

50Ah

3.2V

186*136*31 mm

1.41 kg

3C

55Ah

3.2V

186*136*61 mm

1.45 kg

3C

75Ah

3.2V

201*131*37.2 mm

1.91 kg

3C

90Ah

3.2V

201*131*37.2 mm

1.95 kg

3C

105Ah

3.2V

201*131*37.2 mm

2.05 kg

3C

Cycle Life: > 2000 times @ 80% DOD, retention capacity ≥ 80%
Note:

We are a battery manufacturer. All products do not support retail, we only do B2B business.please contact us for product prices!