2021-03-28 08:21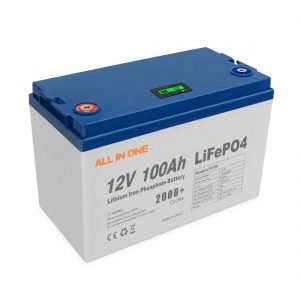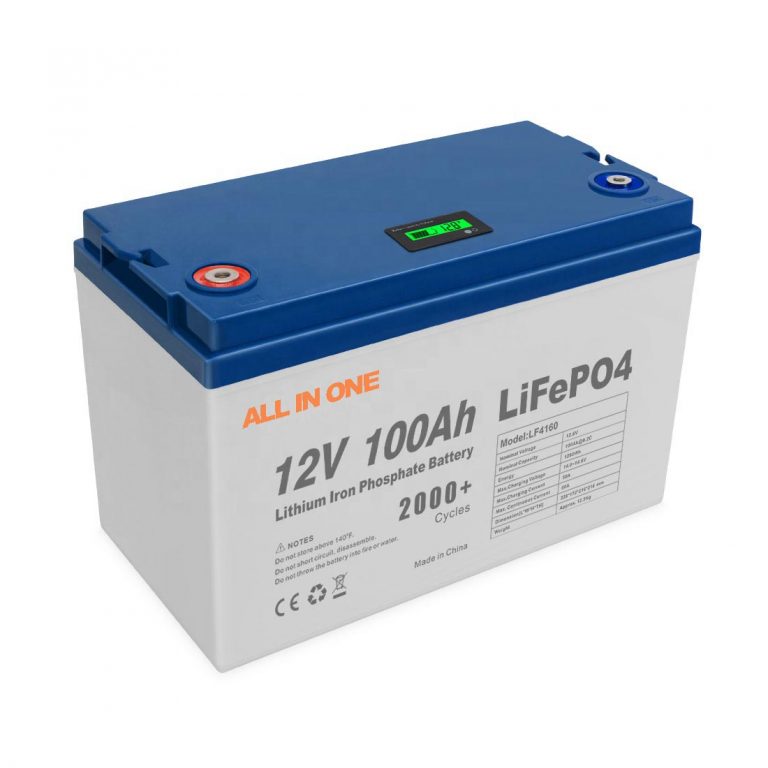 Specification
Electrical
Characteristics

Nominal Voltage

12.8V

Nominal Capacity

Energy

1280Wh

Internal Resistance

50≤mΩ

Cycle Life

2000 Cycles @ 0.2C Charging/Discharging ,Until 70% Capacity

Self Discharge

≤3.5% per month at 25℃

Max.Charging Voltage

14.0~14.6V

At 0℃~45℃ temperature, charged to 14.6V at a constant current of 0.2C5A, and then,changed continuously with constant voltage of 14.6V until the current was not more than 0.02C5A

Charging Current

20A

Max.Charging Current

50A

Discharging Current

50A

Max. Continuous Current

80A

Max.Pulse Current

200A(<3S)

Discharging Cut-off Voltage

10.0

Charge Temperature

0℃ to 45℃(32℉ to 113℉) @60±25% Relative Humidity

Discharge Temperature

-20℃ to 60℃(-4℉ to 140℉) @60±25% Relative Humidity

Storage Temperature

0℃ to 45℃(32℉ to 113℉) @60±25% Relative Humidity

Water Dust Resistance

IP55

Cell & Format

IFR32700 N65,4S16P

Casing

Plastic

Dimension(L*W*H*TH)

328*172*216*216mm

Weight

Approx. 12.5Kg

Terminal

M6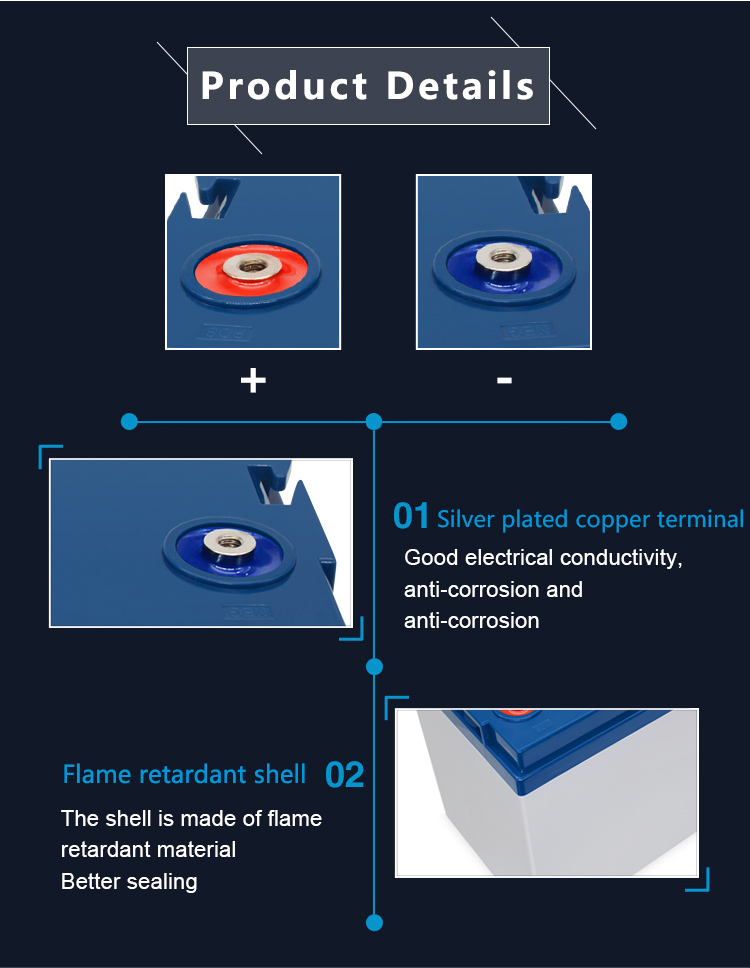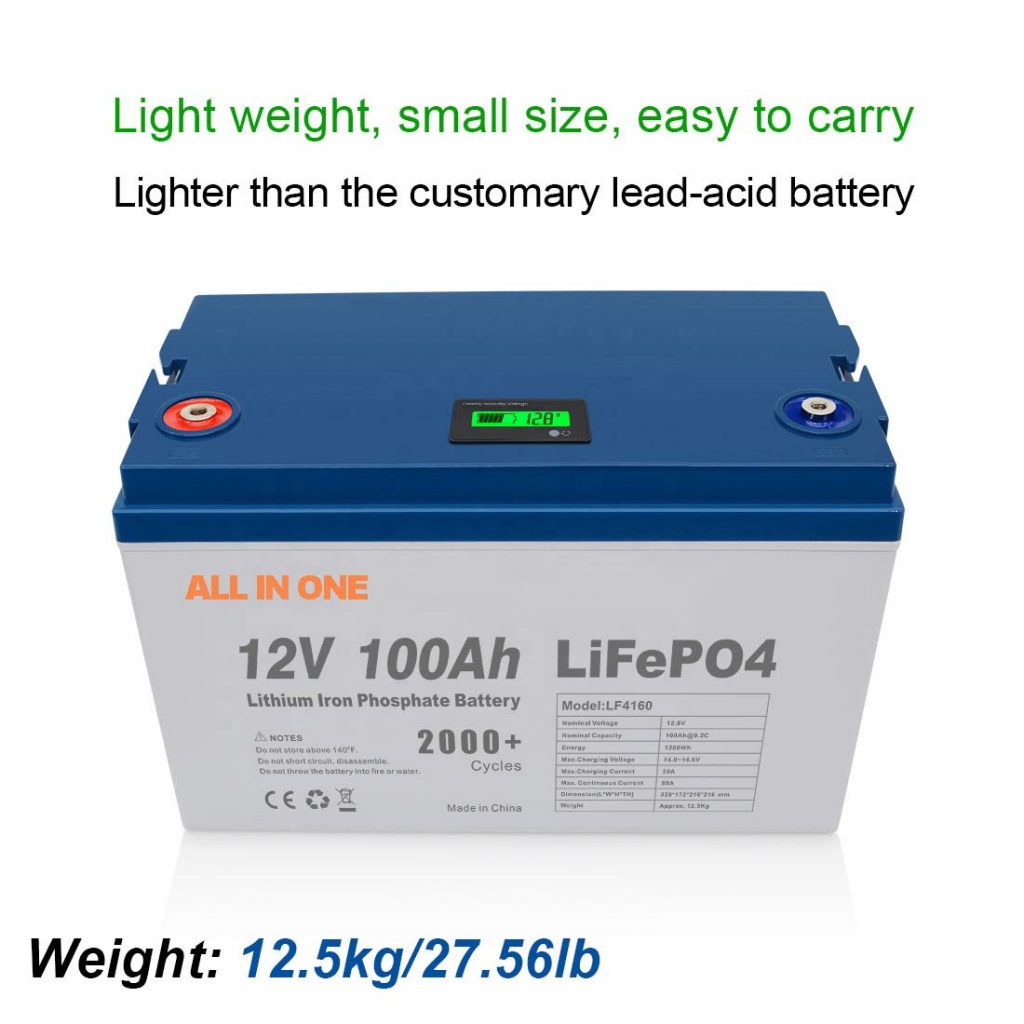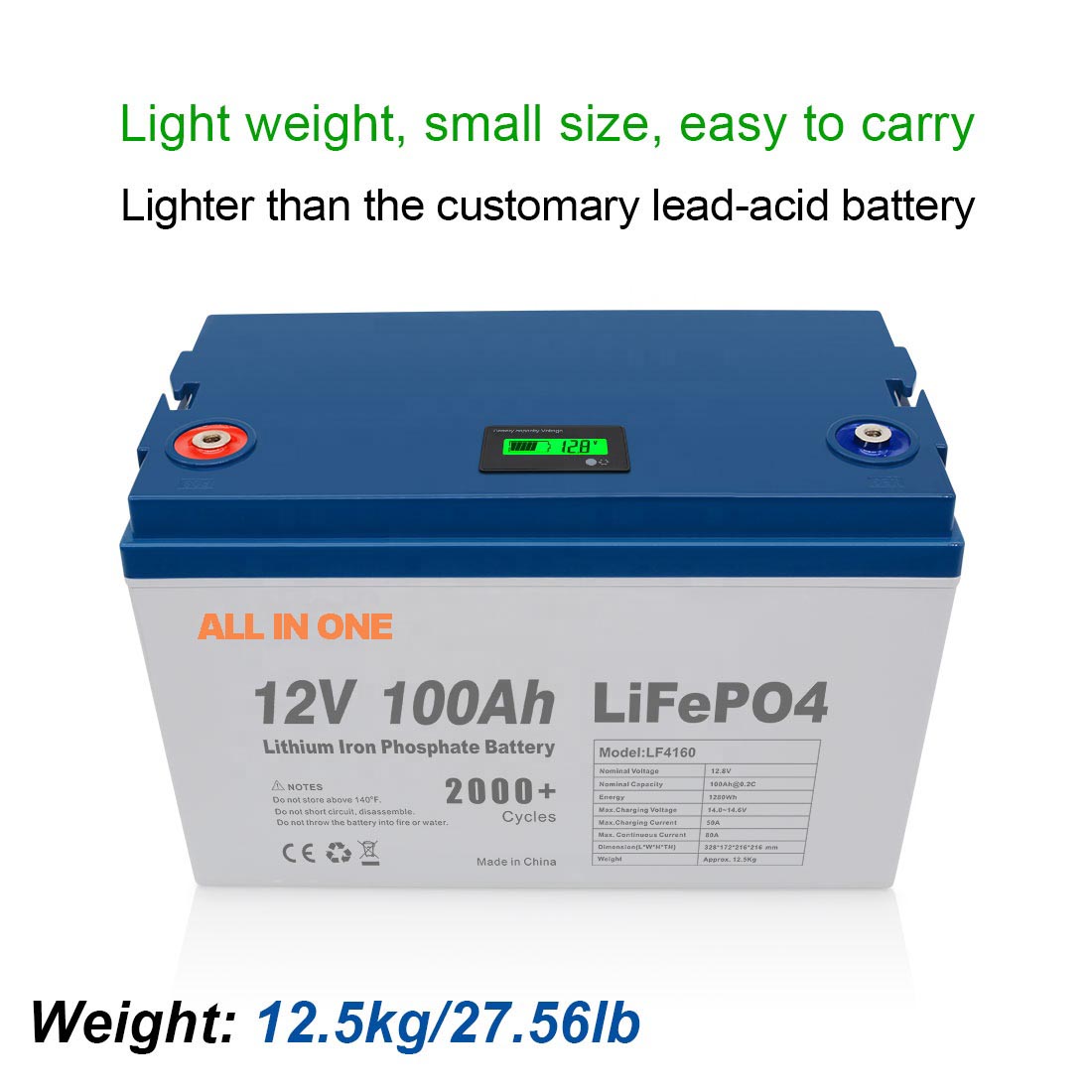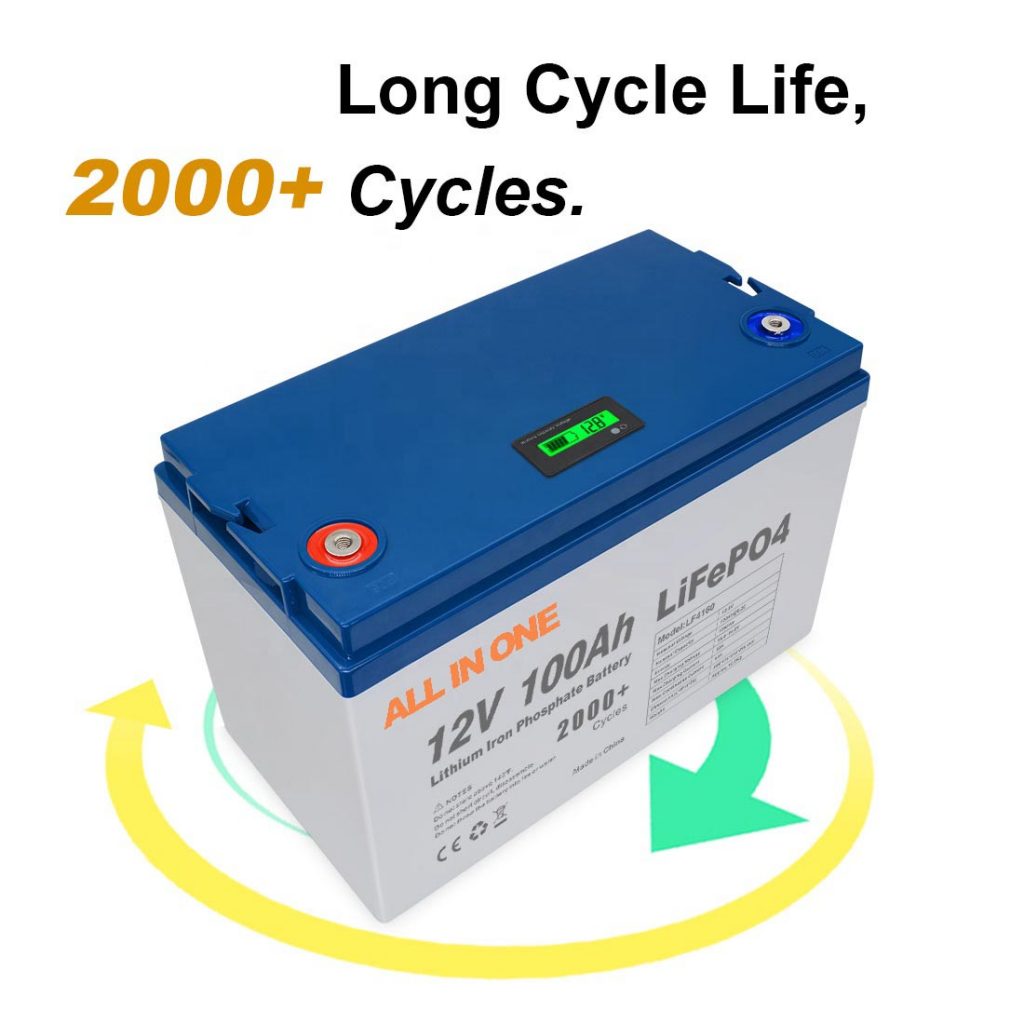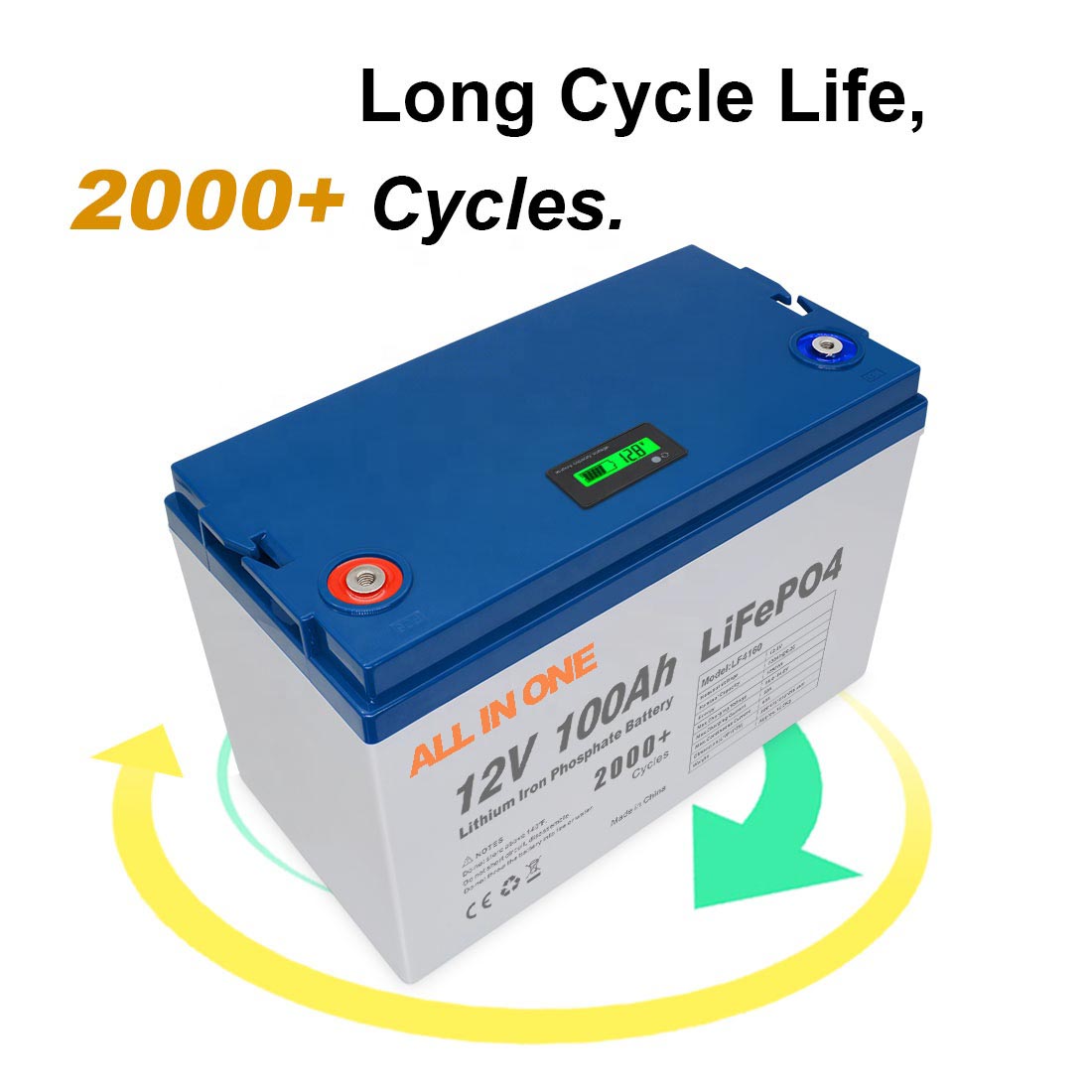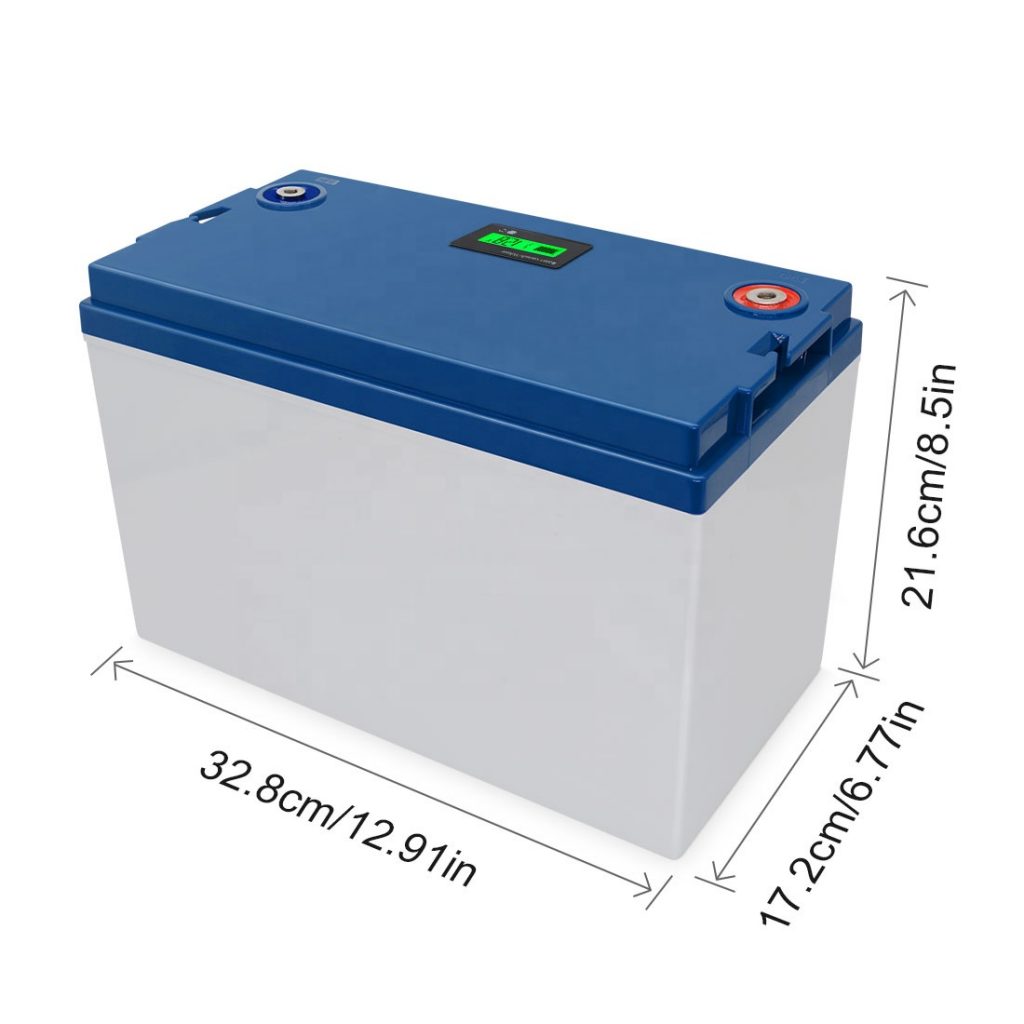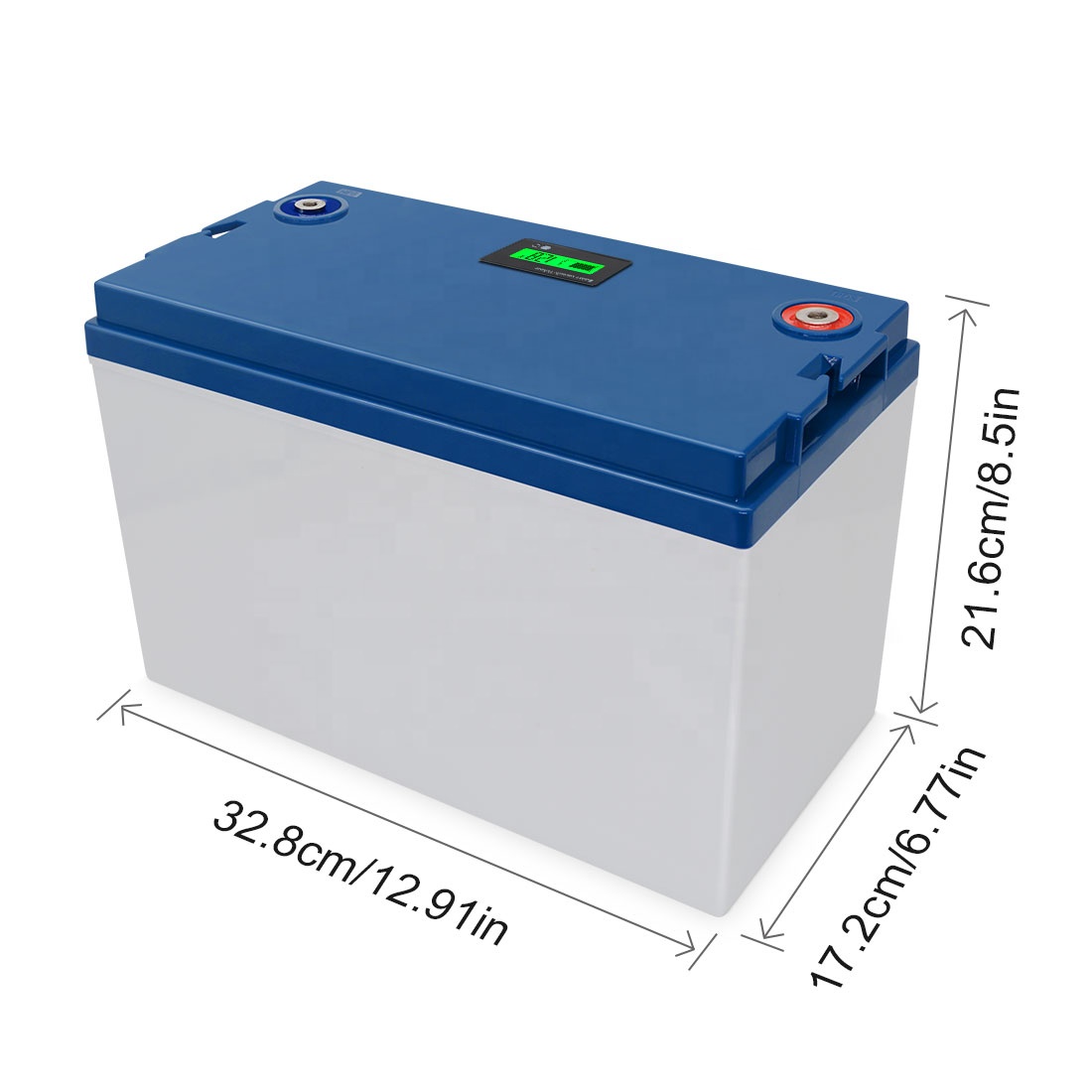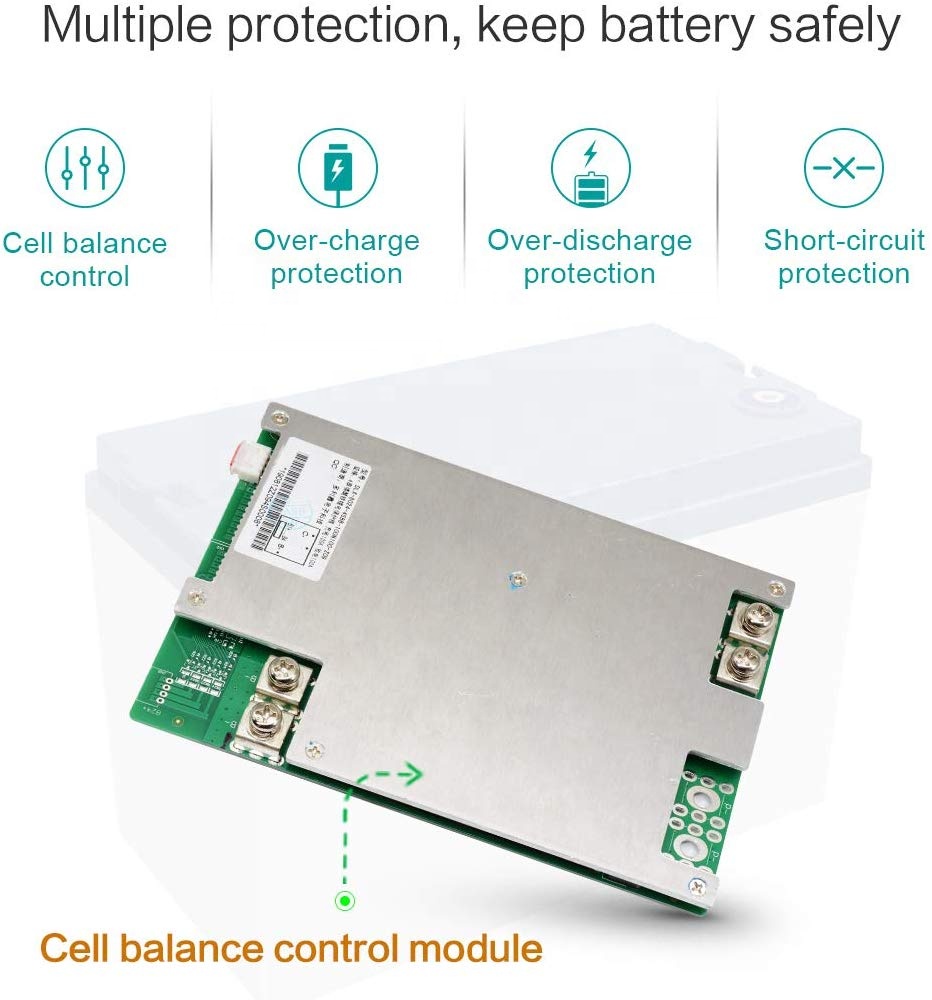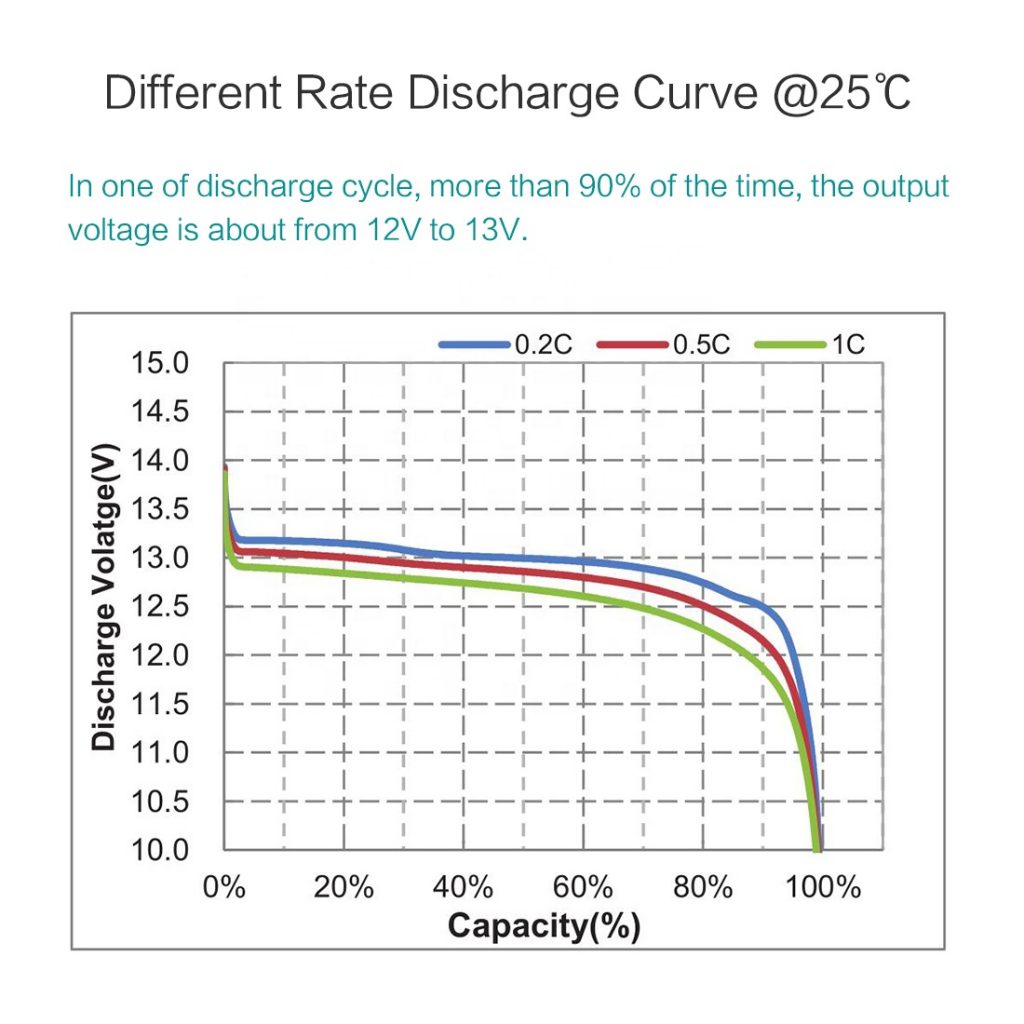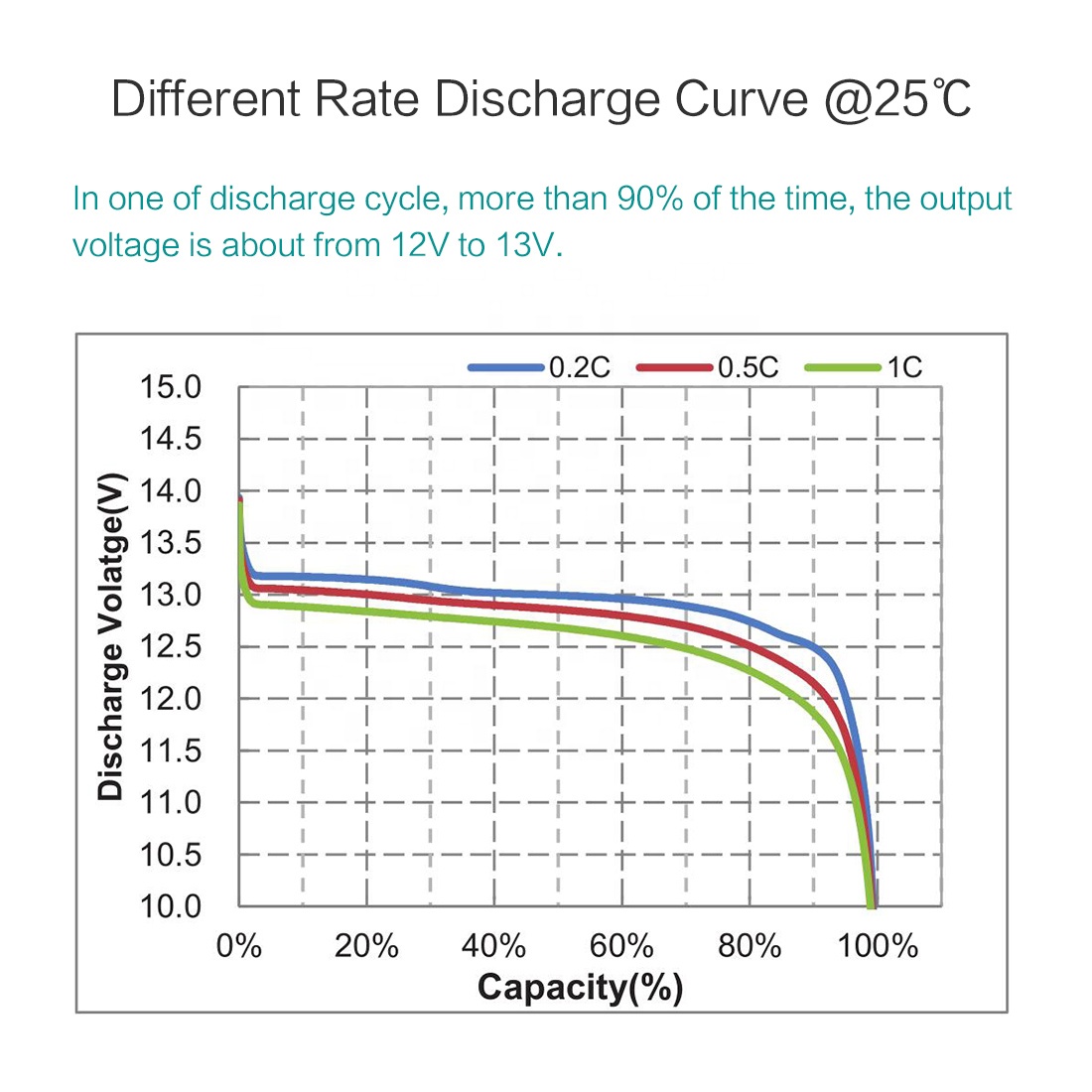 Product Advantage
◆ Using the technology of lithium iron phosphate cell, superior safety,thousands of cycles, 100%DOD, under normal conditions.
◆ Built-in automatic protection for over-charge, over discharge, over current and over temperature.
◆ Free of maintenance .
◆ Internal cell balancing.
◆ Lighter weight: About 40% ~50% of the weight of a comparable lead acid battery.
◆ Can be charged using most standard lead-acid charges (set).
◆ Wider temperature range:-20℃~60℃.
◆ Support for Series application expansion (up to 51.2V) and two in parallel.
Related LiFePO4 Batteries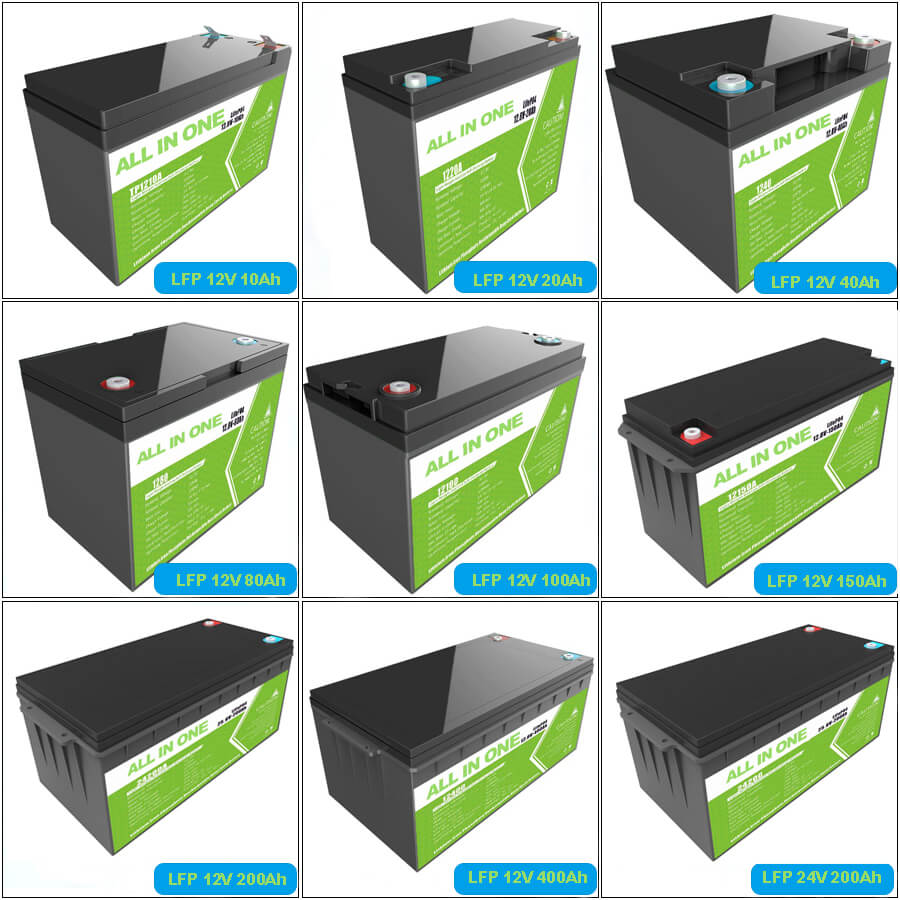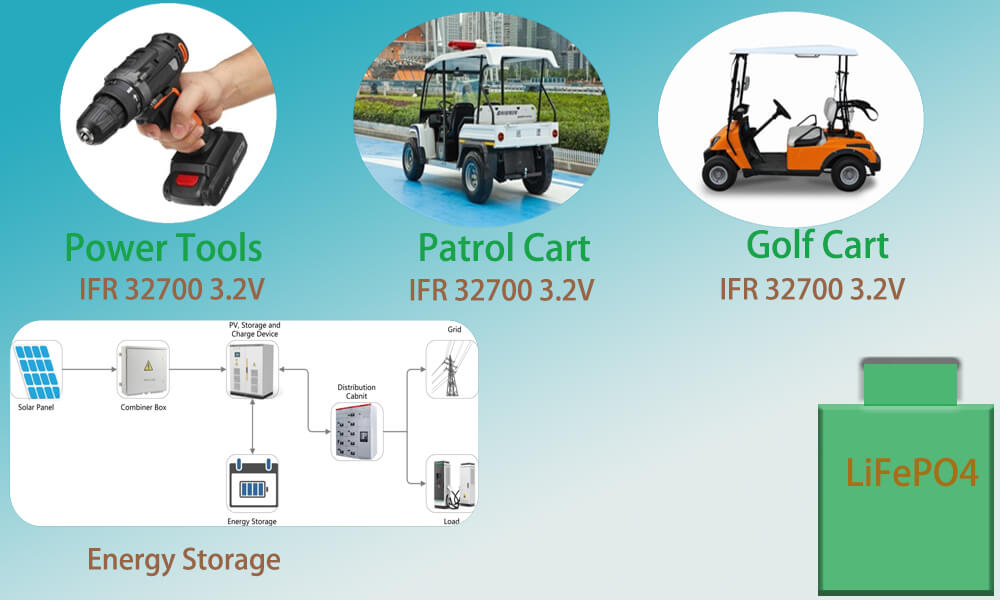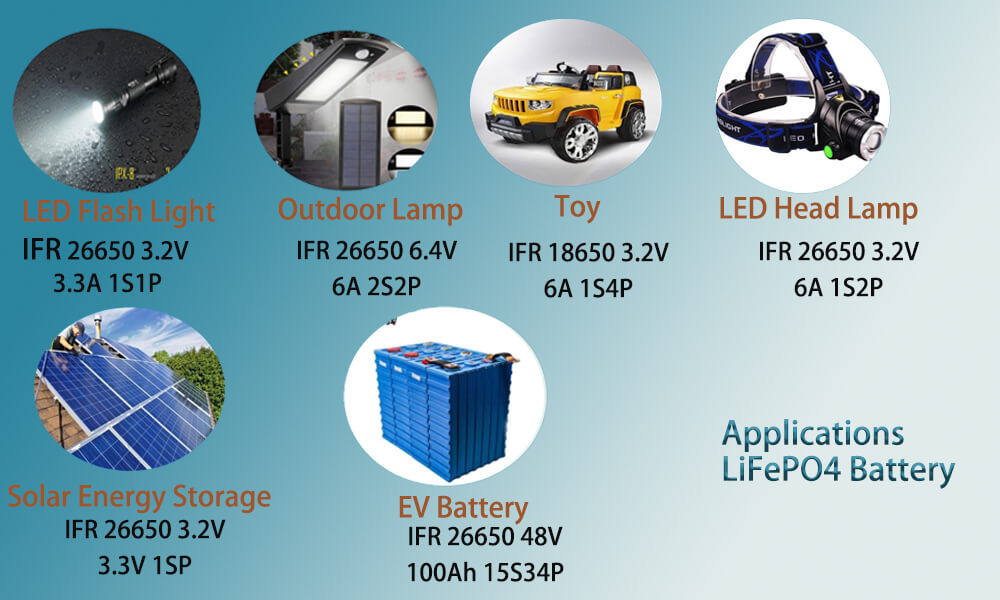 * 100% pre-tested before leaving the factory
* Specialized manufacturer with more than 10-years experience
* Excellent customer service and technical support * Strict quality control system and professional R&D department.
*We support sample services.
*New sample as per requests: The sample is specially made as per your request. And the charges will be collected based on practical expense accordingly.
*Sample lead time: Ready sample in stock will be sent out within 1-2 days. New sample will be sent out within 7 days upon confirming the deposit and artwork.
*Freight: Freight charge collected.
1.Send Inquiry-Professional.
2.Confirm the price, lead time, payment term etc.
3.Customer make the payment for deposit and send us Bank slip.
4.Initial Production Stage-Inform the clients that we have got the payment,And will make the samples according to your request, send you photos or Samples to get your approval. After approval, we inform that we will arrange the production & inform the estimated time.
5.When mass goods production finished, products photos and samples will sent to you for approval. You can also arrange the third party Inspection .
6.Clients make payment for balance and we Ship the goods.
7.Order can be say "finish" when you receive the goods and satisfy with them .
8.Feedback to US about Quality , Service, Market Feedback & Suggestion. And we will do better.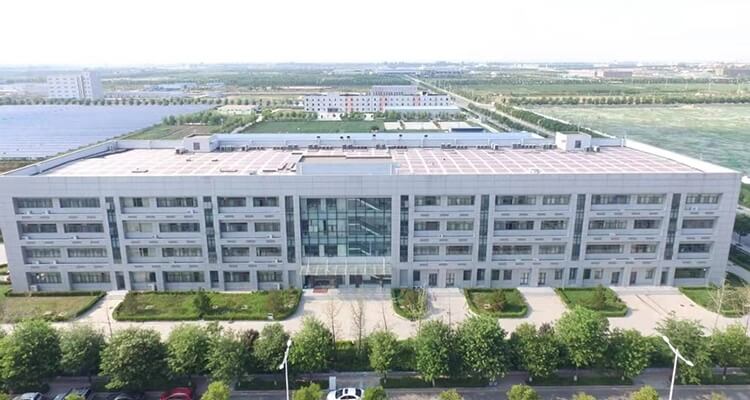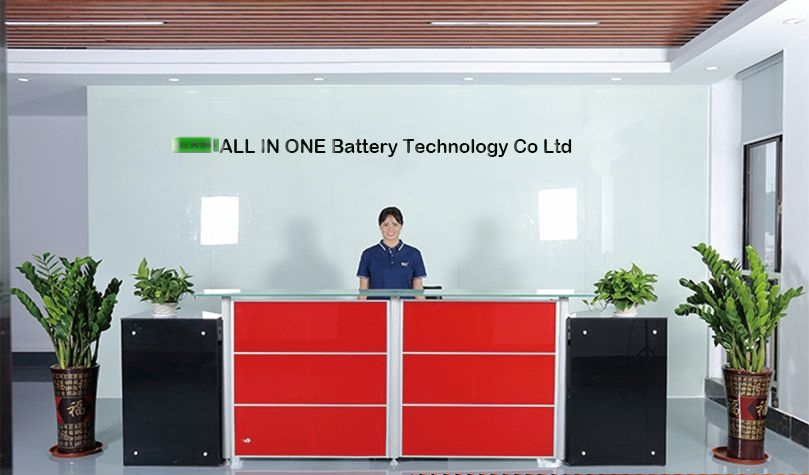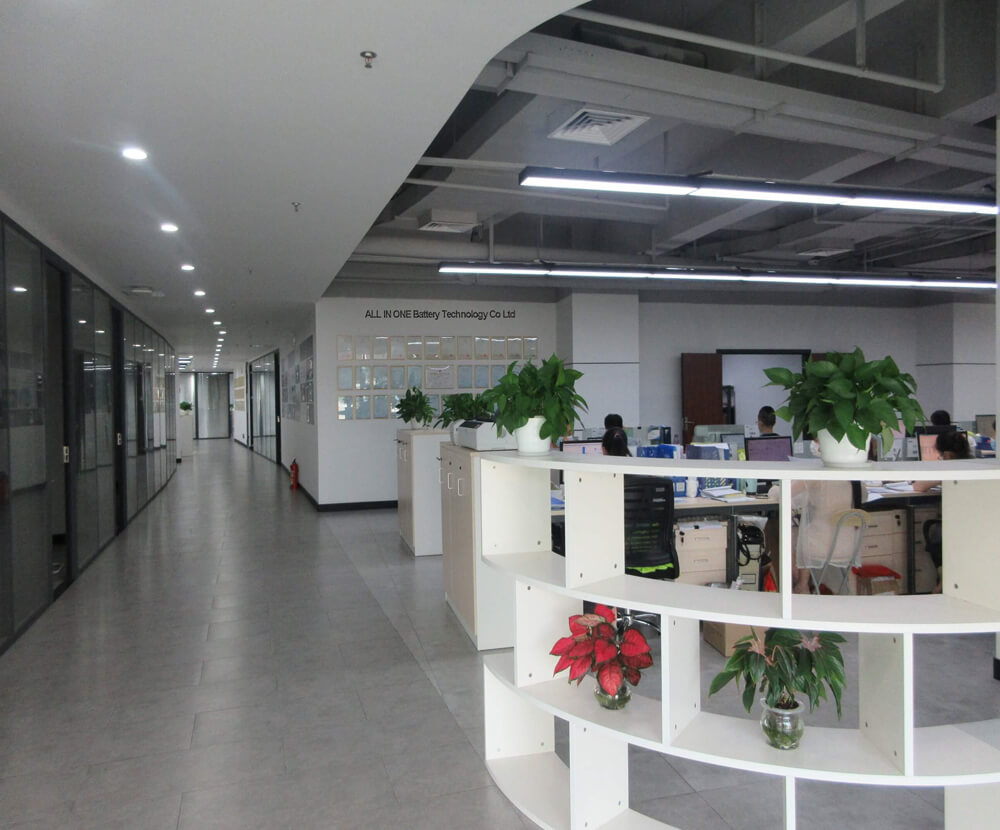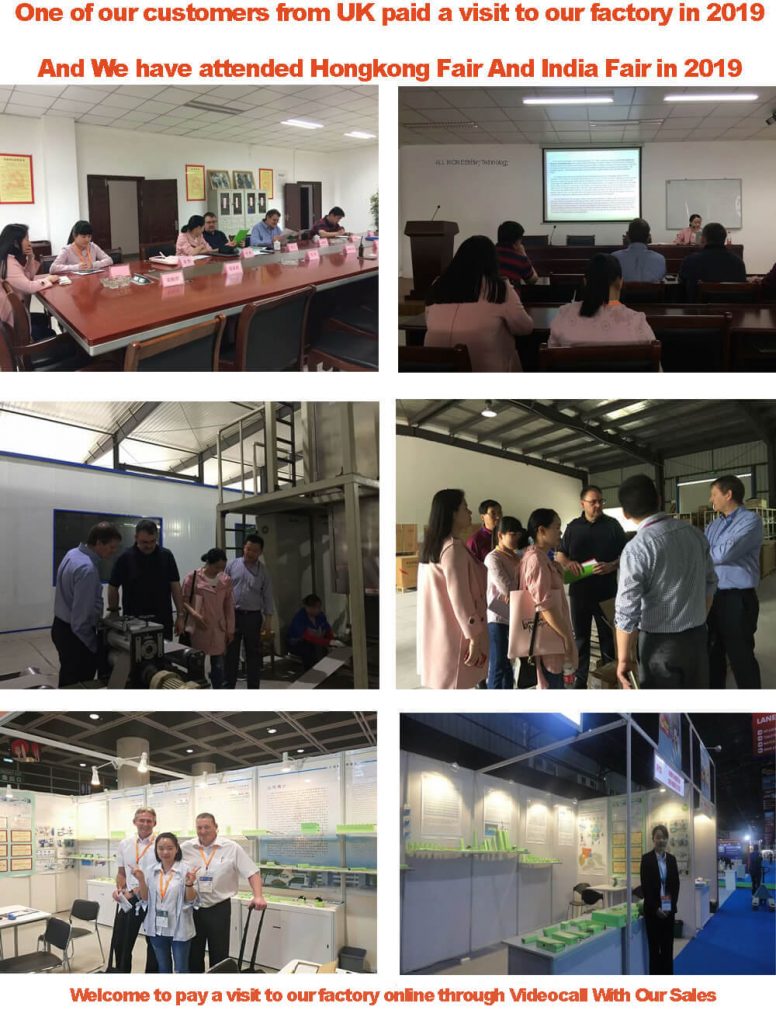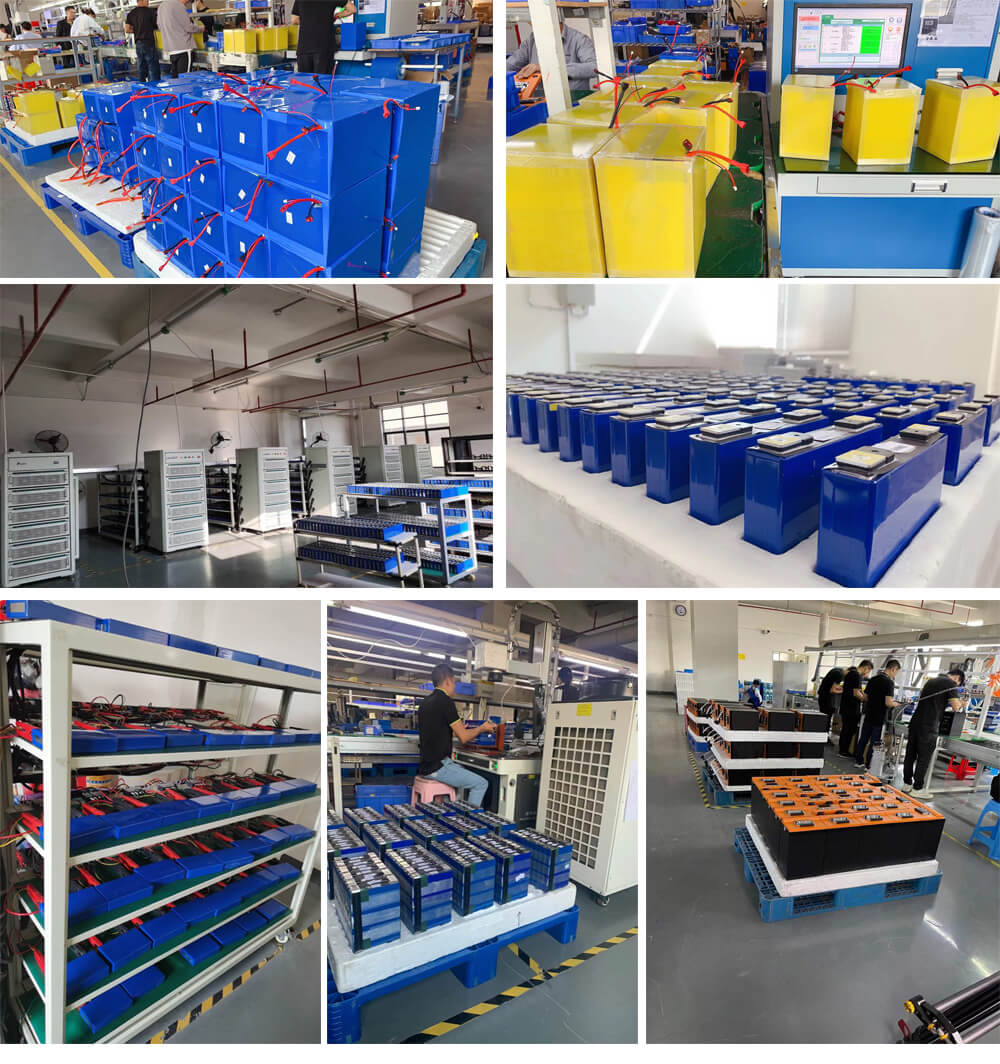 Q1. Can you Send Lithium Batteries Overseas?
A1: Yes, in most cases we can. Through PACK & forwarder's comprehensive service, we can have our consignment sent anywhere via air, road or sea. You can tell us your address to check.
Q2. How do you ship the LiFePo4 battery packs?
A2: Pack each battery in fully-enclosed interior packaging to protect the terminals. Don't place heavy items on packed batteries. Keep batteries away from other metal objects that may cause short-circuiting. Label the shipment to make it obvious that it contains lithium batteries and need to be handled with care.
Q3. Can lifepo4 batteries be connected in parallel or in series?
A3: Yes.
1> Connecting batteries in series increases voltage, but does not increase overall amp-hour capacity.
2> Connecting batteries in parallel increases total current capacity by decreasing total resistance, and
it also increases overall amp-hour capacity. All batteries in a parallel bank must have the same voltage rating.
Q4. Can we put LiFePO4 battery pack in parallel or series by ourselves?
A4: Yes. The batteries can be put in parallel or series by customers. But there are a few tips we need to pay attention to;
1> Make sure all batteries have the same voltage before put in parallel.
2> Don't not put discharged battery and undischarged battery in parallel. This could reduce the capacity of the entire battery pack.
3> Advise us the target capacity of the whole pack if you would like to put them in series. We will choose the suitable BMS for each battery.
4> If you are not professional in parallel and series batteries, please don't try it by yourselves. It may cause danger and damage the cycle life of the
Q5. Can we put different LiFePO4 battery pack in series by ourselves?
A5: You can buy high voltage directly from us. It's not recommended to put them in series by yourselves, it will hurt the cycle life of the battery pack.
Q6. Can your battery pack include BMS? Can we use it in car?
A6: Yes, our battery pack can include BMS, you can use it for low-speed cars only or aux. power for standard car. Do not use it for standard car directly, that will need more complex design BMS for the pack.
Q7. What is your warranty?
A7: We provide a 2-year warranty for all our battery pack. That means, after 2000@80% DOD, there will be still at least 60% capacity left. And you can use it for at least 5 years for normal 1 time charge and discharge every day.
Note:

We are a battery manufacturer. All products do not support retail, we only do B2B business.please contact us for product prices!