2020-09-22 06:30
Leading Designer and Manufacturer from China in Lithium-Ion Polymer Battery Cell & Packs. Lithium Polymer cell solution, new smart LiPo battery pack for our newest drone platform.
Investigating possible types of LiPo battery cells. Over 2000pcs LiPo Batteries For Your Selection. Safe with Japan IC+Mos, Get Samples in Few Days. Accurate Size & Safe with Japan IC+Mos & Density Capacity. All kinds of batteries that you need can be provided.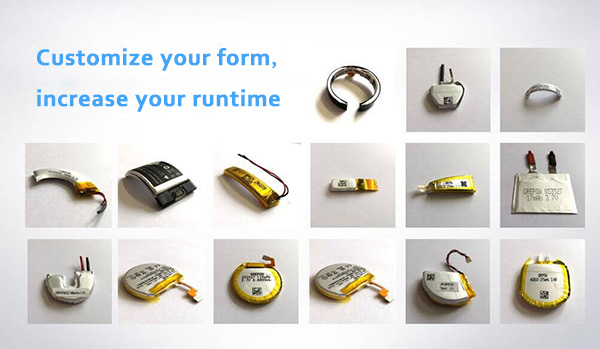 Design
We developed and designed different series of LiPo Batteries for selection and evaluation
Multiplicity
Our LiPo batteries are designed for Wearable Medical devices, hardware prototypes, wireless devices and fitness tracking devices
Professional
Protective Circuit (Prevent the battery from short circuiting), NTC (Thermistor) and Connectors (Molex, JST & Hirose) are assembled when requested.
Certifications
ISO 9001-2008, CE, UL, RoHS, MSDS, UN38.3, IEC6133, FCC and other SGS certifications
Rigorous
All LiPo batteries made by ALL IN ONE will be technological tested and charged to 60% before shipment
Safety
Safe with Japan IC+MOS & Compact Shape & Long Cycles Life
The daily challenge to create something new is fascinating more is expected of us than the other battery manufacturer. I think we create the future. ALL IN ONE Battery's innovative energy storage systems make power available everywhere all the time. Our scientists develop LiPo Batteries with ever increasing energy density. LiPo Batteries Cells combined with intelligence and surrounded by a casing provide solutions from sectors like medical, communications and robotics.
All these areas make it incredibly exciting. At first, the customer doesn't have a LiPo battery detailed idea about what functions the battery should have. The client's application is usually not finalized, and change occurs. I would like to say that our strength is flexibility. A lot of people don't understand that a LiPo battery contains electronics. Nowadays that means it must be able to do everything. The situation is that the application is getting smaller and smaller. 80% of the total application size is the battery, and that's where people see the importance of a battery.
With Coin Power we introduce may new technologies, which altogether allow us to create more density. First, of course, we are engineers, but also consultants, system suppliers, and manufacturers. If you want to say if something is our fifth element, then that is service, which is satisfied. Our customer except that every system has a lifetime of 20 years. I consider that a prerequisite but it requires a tremendous effort to be able to ensure it. Modules have to be able to be cycled for two years, three years or even five to ten years. Sometimes simulations are not enough for that. Indeed, LiPo Batteries today is entering different than before. But their roots and these ideas still exist.
Innovation is the must be substantial. We deliver something to the customer which he has never had before quite like this. It's not about our battery. It's about being a part of another product. Further trends like the energy revolution, miniaturization, and agency of our society. Increase the demand for our products. What LiPo Battery is characterized by is the fast and efficient integration of RD into products. We are highly innovative, and we have the know-how for efficient mass production. The brand ALL IN ONE Battery brings high expectations. I feel just like my engineers, proud of being able to work for such a company.
We produce lithium polymer battery and lithium-ion battery pack for customer electronic devices, provide a full service from designing and producing the LiPo battery, also include LiPo battery packing and shipment.
Please contact us [email protected]
Note:

We are a battery manufacturer. All products do not support retail, we only do B2B business.please contact us for product prices!